A Look Back At The 2019 Mutua Madrid Open
Relive the best moments from the fourth ATP Masters 1000 of the season
Another incredible week at the Caja Magica has come to an end. With the returns of some of the biggest names in the sport adding to an already star-studded cast, the Spanish capital witnessed eight days of thrilling tennis as World No. 1 Novak Djokovic clinched a record-equalling 33rd ATP Masters 1000 title. Relive the best moments of the 2019 Mutua Madrid Open.
Djokovic Clinches Third Madrid Crown
Searching for form after reaching one quarter-final in the opening three Masters 1000 events of the season, Novak Djokovic arrived at the Mutua Madrid Open with determination to recapture his best form and equal Rafael Nadal's record haul of 33 Masters 1000 crowns.
The World No. 1 managed just that in the Spanish capital, motoring his way through the field to claim his third Madrid trophy. Djokovic did not drop a set at the Caja Magica, defeating Barcelona champion Dominic Thiem and Estoril titlist Stefanos Tsitsipas in consecutive matches to add to his Australian Open triumph in January (d. Nadal).
Djokovic's win over Tsitsipas was the Serbian's 200th victory against Top 10 opposition (200-90). The 31-year-old also extends his unbeaten record in Madrid finals (3-0), following final wins in 2011 (d. Nadal) and 2016 (d. Murray).
Rojer/Tecau Lift Second Madrid Title
Jean-Julien Rojer and Horia Tecau faced two match points in the first round of the Mutua Madrid Open against five-time champions Bob Bryan and Mike Bryan. But the longtime partners battled through, and six days later claimed the doubles trophy.
Rojer and Tecau defeated singles stars Thiem and Diego Schwartzman to lift their second trophy in Madrid. The Caja Magica has been a special place for the Dutch-Romanian duo, which has won both of its Masters 1000 titles in the Spanish capital. The veterans, who have competed together since 2014, return to the winners' circle for the first time since Winston-Salem last season and have now earned a trophy as a team for six consecutive years.
Stunning Tsitsipas Reaches Second Masters 1000 Final
Despite falling short in his bid to lift his first Masters 1000 title, Tsitsipas will rise to a career-high No. 7 in the ATP Rankings on Monday.
The #NextGenATP Greek defeated defending champion Alexander Zverev and claimed his first victory in four FedEx ATP Head2Head meetings against five-time champion Nadal to reach the championship match, extending his tour-level win streak to eight matches. Tsitsipas, who was trying to become the ninth first-time winner at this level over the past 18 Masters 1000 tournaments, leads the ATP Tour in wins this year with 27 victories from 37 tour-level encounters.
Another Semi-Final Run For Nadal
Nadal added to semi-final appearances at the Rolex Monte-Carlo Masters and the Barcelona Open Banc Sabadell, with a run to the final four at the Caja Magica (l. to Tsitsipas).
The five-time champion defeated #NextGenATP stars Felix Auger-Aliassime and Frances Tiafoe, before a convincing 6-1, 6-2 victory against former World No. 3 Stan Wawrinka in the quarter-finals. But the Spaniard could not extend his three-match unbeaten FedEx ATP Head2Head series record against Millennium Estoril Open titlist Tsitsipas, who claimed a 6-4, 2-6, 6-3 victory under the lights on Court Manolo Santana.
The 32-year-old leaves Madrid with a 20-5 record this season, which includes semi-final appearances at five of the six events he has played this year. Nadal will be aiming to capture his first ATP Tour title of the season at the Internazionali BNL d'Italia next week, where he has lifted a record eight titles.
Read Nadal: 'This Is More Normal Than The Past 14 Years'
Thiem Continues To Impress
Attempting to add to his recent trophy at the Barcelona Open Banc Sabadell (d. Medvedev), Thiem claimed wins over Reilly Opelka, Rolex Monte-Carlo Masters champion Fabio Fognini and three-time former champion Roger Federer to reach the last four in Madrid.
The World No. 5 entered his semi-final clash against Djokovic on an eight-match winning streak, but could not hold on to break advantages in each set against the World No. 1. As a result of his loss to Djokovic in two tie-break sets, Thiem dropped to 3-1 in 2019 matches against Top 5 opposition. The Austrian claimed his third Top 5 win in the quarter-finals, beating Federer for the second time in 2019.
Thiem also impressed on the doubles court in the Spanish capital, reaching the championship match alongside Schwartzman of Argentina (l. to Rojer/Tecau). Thiem and Schwartzman defeated sixth seeds Oliver Marach and Mate Pavic en route to the final.
Match Points & Milestones... Federer's return to clay had a bit of everything. In his first clay-court match since May 2016, the 37-year-old Swiss showed no rust as he opened with a 52-minute victory over Richard Gasquet. In his next match, Federer clinched the 1,200th victory of his career in dramatic fashion, saving two match points en route to defeating Gael Monfils. The tables turned Friday in the quarter-finals. Facing Thiem, whom he lost to in the BNP Paribas Open final, Federer was unable to convert two match points in the second set tie-break, ultimately falling 3-6, 7-6(11), 6-4.
"Losing with match points is the worst... but nevertheless, if I take a step back, it's all good," said Federer. "I had a great week. People couldn't have been friendlier to me. I thought I played good."
Read: QF Reaction | 1200th Match Win Tribute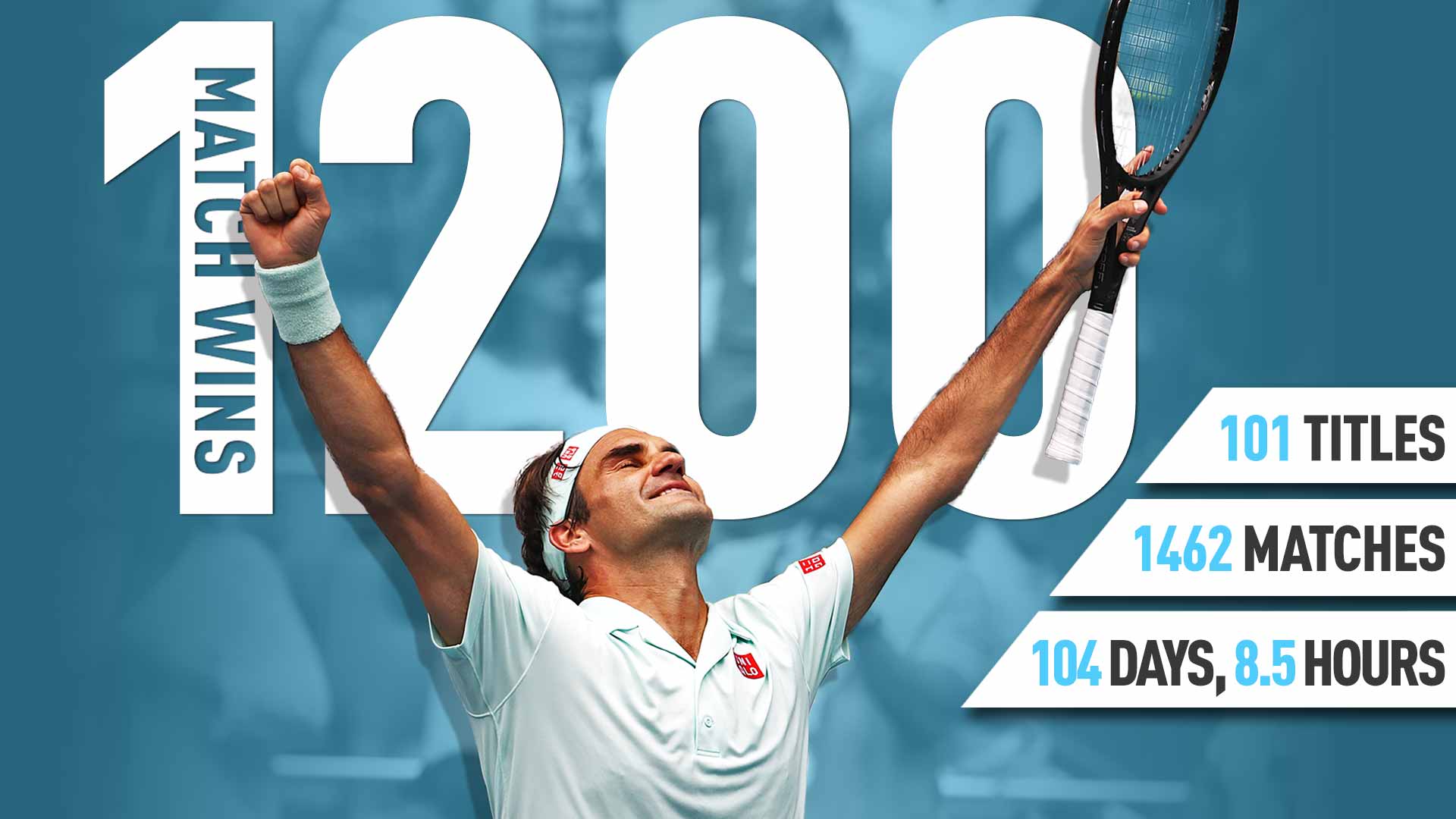 Time To Say Goodbye.... Third seed Zverev knocked out David Ferrer 6-4, 6-1 on an emotional night at the Caja Magica, ending the Spaniard's legendary career. As the former World No. 3 faced three match points, Zverev encouraged the crowd to give him a standing ovation.
Ferrer, who had prevailed against Roberto Bautista Agut a night earlier, spoke for 11 minutes following the match, thanking everyone from his parents to his longtime coach and the fans. "I never won some tournaments I would've loved to win. I have my trophies at home, they're just trophies, material," Ferrer said. "What I really take with me is the love you've shown me. Always in my heart. Thank you so much." Read More & Watch
From Idol To Rival... During Denis Shapovalov's breakthrough run at the Coupe Rogers in 2017, the #NextGenATP star stayed with Auger-Aliassime's family. That week, following Shapovalov's upset win over Nadal, he took down Auger-Aliassime's Nadal poster as a joke... and it stayed down for good. In Madrid, the Canadians were drawn to face each other in the first round, with the winner earning a date with none other than Nadal. Auger-Aliassime earned the right to play Nadal after defeating Shapovalov 6-4, 7-6(7). Nadal then took care of Auger-Aliassime 6-3, 6-3.
Read: Nadal Overcomes Auger-Aliassime
'Cloudy Days' Give Way To Sunshine... Juan Martin del Potro made his return following a two-and-a-half-month absence, playing in just his second tournament since suffering a right knee fracture in October. Del Potro teamed up with Kei Nishikori to win their first-round doubles match, and held a match point in his singles match against Rio Open presented by Claro champion Laslo Djere, only to fall 6-3, 2-6, 7-5. "I'm feeling good progress. I'm progressing day after day. For me to be here in this tournament is another step in order of my build-up towards my final recovery, in order to be at full strength and really fit," Del Potro said.
#GraciasFerru... Ahead of the Mutua Madrid Open, the likes of Nadal, Federer, Thiem, Nishikori, Del Potro and Marin Cilic joined Manolo Santana and Tournament Director Feliciano Lopez on court at the Caja Magica for a special ceremony honouring Ferrer. 'Ferru' exchanged greetings and hugs with all the players, past and present, who gathered to pay tribute to his hard work, sportsmanship and relentless brand of baseline tennis.
"I'd like to congratulate you on your playing career and above all as a person," said Nadal. "You are an exceptional colleague and you have been throughout your career. We're going to miss you, not just the Spaniards, but the whole of tennis. I wish you the best for your future." Read More Tributes
More stories like this in: