Preview: Alcaraz, Korda Take Perfect Records Into SFs
Baez, Nakashima look to pull upsets Friday in Milan
The semi-finals at the Intesa Sanpaolo Next Gen ATP Finals on Friday feature three of the top four seeds as No. 1 seed Carlos Alcaraz. who won Group A, takes on No. 6 Sebastian Baez and Group B winner No. 2 Sebastian Korda meets No. 4 Brandon Nakashima in an all-American match-up. Both are first-time meetings.
This is the fourth straight time the top seed has advanced to the semi-finals in Milan and it's the third straight time the Top 2 seeds have reached the semis. It's also the second time two players from the same country have reached the semi-finals. In 2017, Russians Daniil Medvedev and Andrey Rublev were in the semi-finals.
The winner of Korda-Nakashima will be the first American to reach the final in the tournament's four-year history and the winner of Alcaraz-Baez will also be the first player from Spain or Argentina to reach the final in Milan.
In the opening match, Korda and Nakashima have had different paths to the semi-finals. Korda lost the first two sets in his opening Group B match against Gaston and since then he has won nine straight sets to finish 3-0 in round robin play. Nakashima won his opener, lost to Alcaraz then beat Rune to finish second in Group A.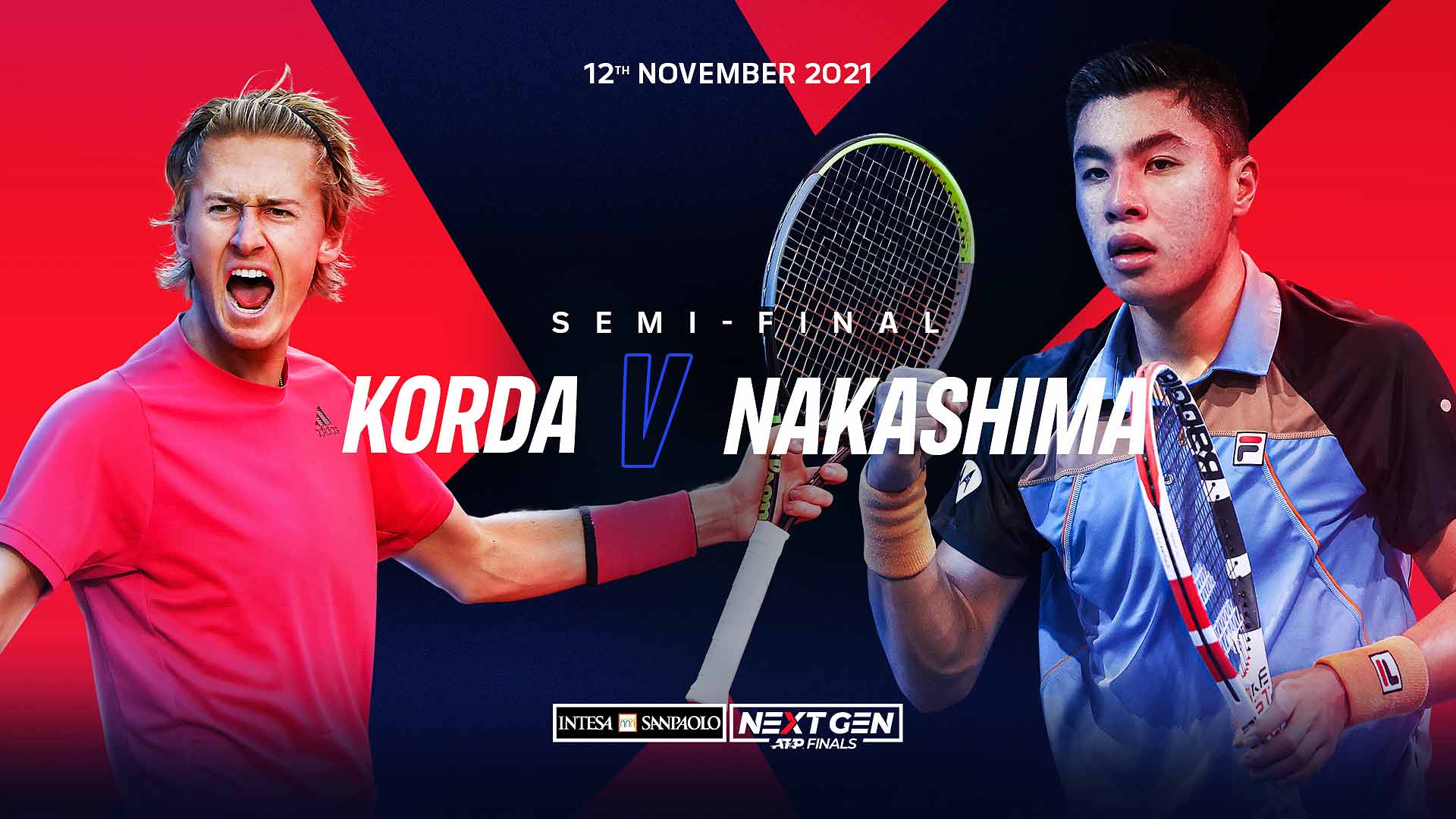 "I have never played Brandon before," Korda said. "I have practised with him a bunch of times. It is going to be a new experience for me and for him. Hopefully we can play some good tennis and put on a good show for everybody."
Korda leads the tournament in service games won (29 of 31, 94%) and second serve pts. won (62%) this week while he's No. 2 in aces (20), first serve pts. won (79%), break pts. saved (11 of 13, 85%) and return games won (10 of 31, 32%), just behind Nakashima, who leads the tournament (11 of 29, 38%). Nakashima is No. 2 in break pts. converted (11 of 24, 46%) and No. 3 in service games won (25 of 30, 83%).
In the next semi-final, Group A winner Alcaraz looks to continue his strong play (9-1 in sets in round-robin) as he faces Baez, who finished second in Group B with a 2-1 round-robin record. The Argentine opened with a four-set win over local favorite Musetti, lost to Korda, then beat Gaston to qualify for the semi-finals.
Alcaraz is trying to become the second straight 18-year-old to reach the Milan final and win the title after Jannik Sinner captured the crown two years ago.
"I am very happy to get to the semi-finals," Alcaraz said Thursday. "It is so important and to be able to play in the semi-finals here is amazing. To play these kinds of matches and this level, I am really glad. I am playing really, really well and feel very comfortable in Milan. I want to end the year with a title."
Baez is playing in his first ATP Tour main draw hard court tournament and the 20-year-old Argentine leads in 1st Serve Pct. (79%) and is No. 2 in 2nd serve pts. won (58%) and pts. won returning 1st serve (35%), his best statistical categories.
More stories like this in: