Auger-Aliassime, Berrettini, Medvedev, Tsitsipas On The Move In 2019
Nominees reached a significantly higher ATP Ranking by year's end
The Most Improved Player of the Year in the 2019 ATP Awards goes to the player who reached a significantly higher ATP Ranking by year's end and who demonstrated an increasingly improved level of performance through the season. This year's nominees are Felix Auger-Aliassime, Matteo Berrettini, Daniil Medvedev and Stefanos Tsitsipas. The winner, as selected by the players, will be announced later this month.
Felix Auger-Aliassime
Felix Auger-Aliassime has been making headlines since he was 14, when he became the first player born in the 2000s to earn a position in the ATP Rankings. In 2017, at 17 years, 1 month and 5 days old, he became the fourth-youngest player to crack the Top 200 of the ATP Rankings. In 2019, the Canadian kept making strides – in fact, achieving a career-high ATP Ranking 13 times during the season. From No. 108 at the start of the year, the 18-year-old peaked at No. 17 in October and became the youngest player ranked in the Top 25 since Lleyton Hewitt in 1999.
Auger-Aliassime started his season by playing qualifying matches, but a breakthrough run in February at the Rio Open presented by Claro – where he became the youngest ATP 500 finalist in history (l. to Djere) – lifted him more than 40 spots into the Top 60. The following month, as a qualifier, he became the third-youngest ATP Masters 1000 semi-finalist at the Miami Open presented by Itau, a result that pushed up into the Top 50 at No. 33 in the ATP Rankings.
The Canadian reached another clay-court final in Lyon (l. to Paire) and again in his first grass-court tournament in Stuttgart (l. to Berrettini), making him the youngest three-time ATP Tour finalist since Rafael Nadal in 2004-05. By the US Open, Auger-Aliassime – who shares a birthday with Roger Federer – had earned his place in the Top 20. Though he qualified for the Next Gen ATP Finals, he had to cut his season short in mid-October due to injury, but he still finished the year at No. 21.
"It's been a solid year!" he posted on Instagram. "Truly blessed and thankful to be nominated among these other great players of our sport 🙏🏽 Much love to all of you fans for supporting me throughout the past 11 months♥️ #ATPAwards"
Matteo Berrettini
Even Matteo Berrettini didn't aspire to finish his season at the Nitto ATP Finals. "Being here wasn't a goal at the beginning of the year. Also before the US Open, I didn't expect that. I wasn't thinking about that," he said. "I knew that I was playing good in springtime, like [during the] clay season. It's just crazy that it happened."
In 2018, Berrettini's first full year on the ATP Tour, he compiled a 19-19 record, reached a high of No. 52 and won the Gstaad title. In 2019, the 23-year-old Italian finished with 43 match wins, a career-high No. 8 ATP Ranking and two more titles.
Berrettini started making his move in April, when he reached back-to-back clay-court finals in Budapest (d. Krajinovic) and Munich (l. to Garin) to break into the Top 50. He continued his climb, rising into the Top 20 with a strong grass-court campaign that included the Stuttgart title, the Halle semi-finals and Wimbledon Round of 16 (l. to Federer).
While the Italian was limited to one tournament in the lead to the US Open, he made the most of his appearance in Flushing Meadows, where he reached his first Grand Slam semi-final. With players battling for a place in the top eight in the ATP Race To London, Berrettini advanced to his first ATP Masters 1000 semi-final at the Rolex Shanghai Masters. A semi-final run at the Erste Bank Open lifted him into the Top 10, and Berrettini went on to clinch the final qualification spot at the Nitto ATP Finals during the Rolex Paris Masters. "I'm really proud of myself... It's been an unbelievable season," he said.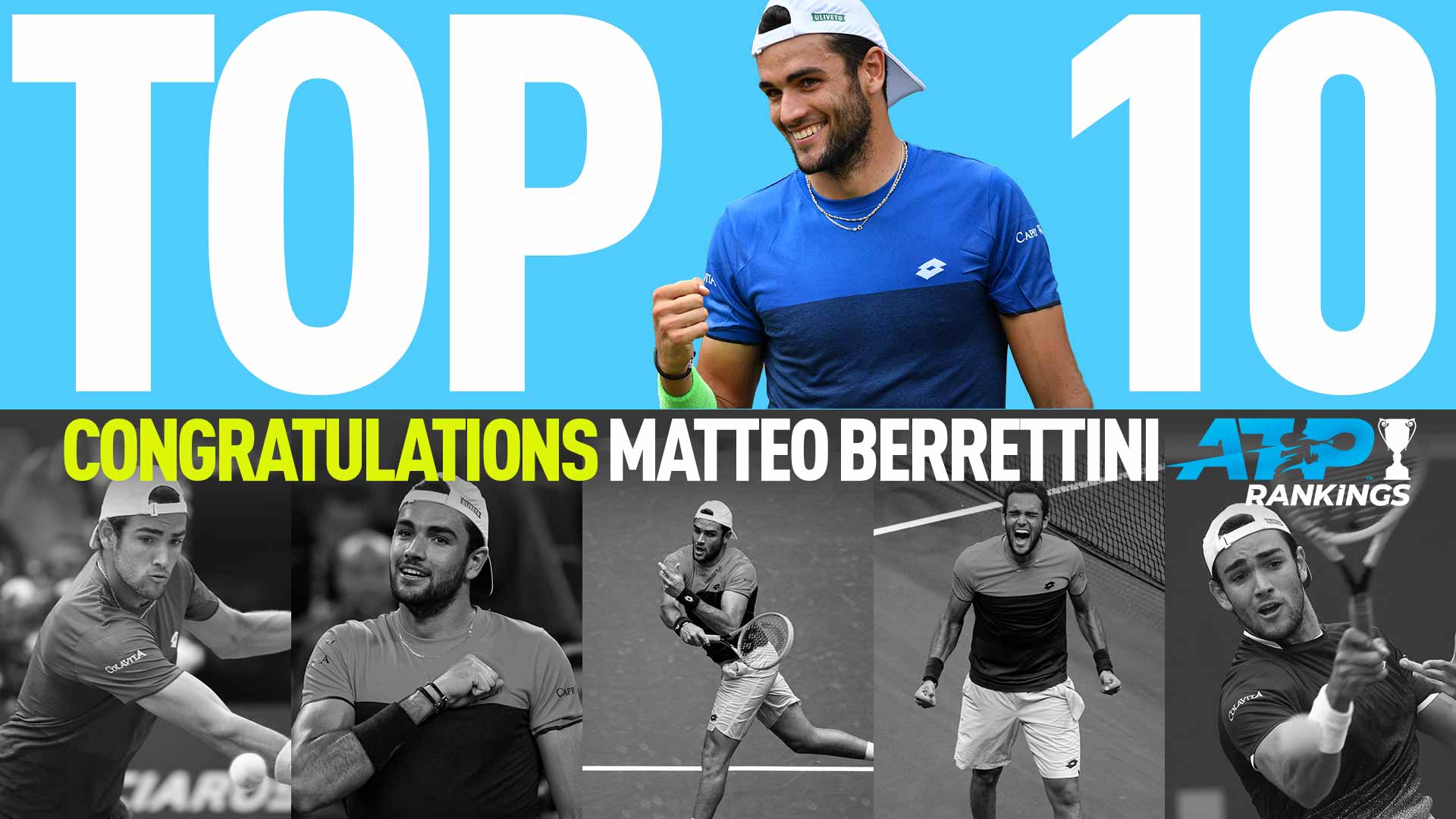 Daniil Medvedev
Daniil Medvedev enjoyed a solid campaign in 2018, winning his first three tour-level titles – including the ATP 500 in Tokyo (d. Nishikori) – and reaching No. 16 in the ATP Rankings by year's end. "It's hard to explain because when I was No. 15, I was good already. Then I wanted to get into the Top 10, which is never easy. I just want to see how far I can go… I know that to be high up in the [ATP Rankings], you have to do a significant effort, but I'm trying to do my best," he said.
Medvedev's best helped him achieve an ATP Tour-leading 59 match wins, 46 hard-court wins and nine final appearances in 2019, in addition to a career-high No. 4 ATP Ranking. He opened the season with a runner-up finish at the Brisbane International, followed by the Sofia Open title, a semi-final run at the Rolex Monte-Carlo Masters (d. Tsitsipas, Djokovic) and a final appearance in Barcelona (l. to Thiem).
Medvedev broke into the Top 10 following Wimbledon, and proceeded to take things to another level. For a three-month stretch, from the end of July through mid-October, the 23-year-old Russian went on a 29-3 tear with six straight finals. After runner-up finishes at the Citi Open (d. Kyrgios) and the Coupe Rogers (l. to Nadal), Medvedev claimed back-to-back Masters 1000 titles at the Western & Southern Open and Rolex Shanghai Masters. In between those triumphs, he impressed at Flushing Meadows as he rallied from two sets down against Nadal in the US Open final before falling in four hours and 51 minutes. He also celebrated his home country title at the St. Petersburg Open.
"My goal is still the same: to be better every day with each training, each tournament [and] to win tournaments," said Medvedev, who qualified for the Nitto ATP Finals for the first time. "It's been working well so far. It's a source of real pleasure."
Daniil Medvedev (@DaniilMedwed) November 28, 2019
Stefanos Tsitsipas
Only one player to date has won Most Improved Player of the Year in back-to-back seasons: Novak Djokovic in 2006-07. Stefanos Tsitsipas has a chance of becoming the second after going from Next Gen ATP Finals champion in 2018 to Nitto ATP Finals champion in 2019.
The 21-year-old Greek finished the season in the best possible way, and he also opened 2019 with a statement win. At the Australian Open, he knocked out World No. 3 Roger Federer – ATPTour.com's top upset at a major this season – en route to becoming the youngest Grand Slam semi-finalist since Djokovic in 2007. Tsitsipas followed with a pair of ATP 250 titles in Marseille and Estoril and was runner-up at three other tournaments. He ousted No. 2 Rafael Nadal to reach his second ATP Masters 1000 final at the Mutua Madrid Open (l. to Djokovic), and was a finalist at the ATP 500s in Dubai (l. to Federer) and Beijing (l. to Thiem). He additionally recorded his first win over a No. 1 player when he defeated Djokovic in the Rolex Shanghai Masters quarter-finals.
Tsitsipas, who reached a career-high of No. 5 in early August, put together a debut to remember in November at the season finale, where he recorded straight-sets wins over Medvedev, Alexander Zverev and Federer before prevailing against Dominic Thiem 6-7(6), 6-2, 7-6(4) in the final.
"I feel like my game is getting better over time...I'm competing against one of the best players in the world, and the amount of effort and the amount of work I put every day deserves to have an outcome like this," he said following his triumph.
Inches make champions @atptour pic.twitter.com/z3o8AAQQjA

— Stefanos Tsitsipas (@StefTsitsipas) November 17, 2019
More stories like this in: