Preview: Rafa Back In Business, Battles Tsitsipas For SF Berth
It's Medvedev vs. Rublev in battle of ATP Cup teammates
When will we learn? Every time we think Rafael Nadal's body is about to give out, that the decades of bruising, dictate-or-disappear tennis are finally catching up with him, the Mallorcan comes through once again, encircled by photographers at some trophy-biting presentation in Barcelona or the Bois de Boulogne.
"Everybody said that because of my style, I would have a short career," he scolded back in the summer of 2018. "I'm still here."
When Nadal pulled out of the ATP Cup earlier this month complaining of tightness in his lower back, all we could talk/text/tweet about was how this latest setback would stymie his chances at the Australian Open, where the 34-year-old was seeking to snap a stalemate with Roger Federer with a record 21st major singles title.
"NADAL'S AUSSIE OPEN IN DOUBT," blared one headline. But while the rumours churned, Nadal, who said he wasn't "a big fan of finding excuses," was quietly knifing his way through his quarter of the draw. Even with an altered service motion, the 2009 champion hasn't dropped a set through four rounds and is now into the quarter-finals for the 13th time in 16 appearances at Melbourne Park.
In his much-hyped Round of 16 match with longtime nemesis Fabio Fognini of Italy, Rafa rolled, 6-3, 6-4, 6-2, in just two hours and 16-minutes, the outcome never really in doubt.
"Things in sports change quick," observed Nadal. "Sometimes you feel that you are so-so; then you win a couple of matches and you feel the best possible."
Bidding to become the first man in the Open Era to win all four major championships at least twice, Nadal will next face a well-rested Stefanos Tsitsipas. The fifth-seeded Greek benefitted from a fourth-round walkover when ninth seed Matteo Berrettini of Italy withdrew due to an abdominal strain. The 22-year-old's only real test came courtesy of home favourite Thanasi Kokkinakis who, in front of the Aussie fans, pushed Tsitsipas to five sets in the second round.
Nadal will come in as the go-to pick, having claimed six of their seven ATP Head2Head meetings, including a straight-sets, 6-2, 6-4, 6-0 victory in the 2019 Australian Open semi-finals. Tsitsipas' lone win came that same year on his opponent's favourite surface, clay, in the Mutua Madrid Open semi-finals, 6-4, 2-6, 6-3.
Tsitsipas is bidding to become youngest Australian Open men's singles champion since Novak Djokovic in 2008. Last year, he reached the third round (l. to Raonic).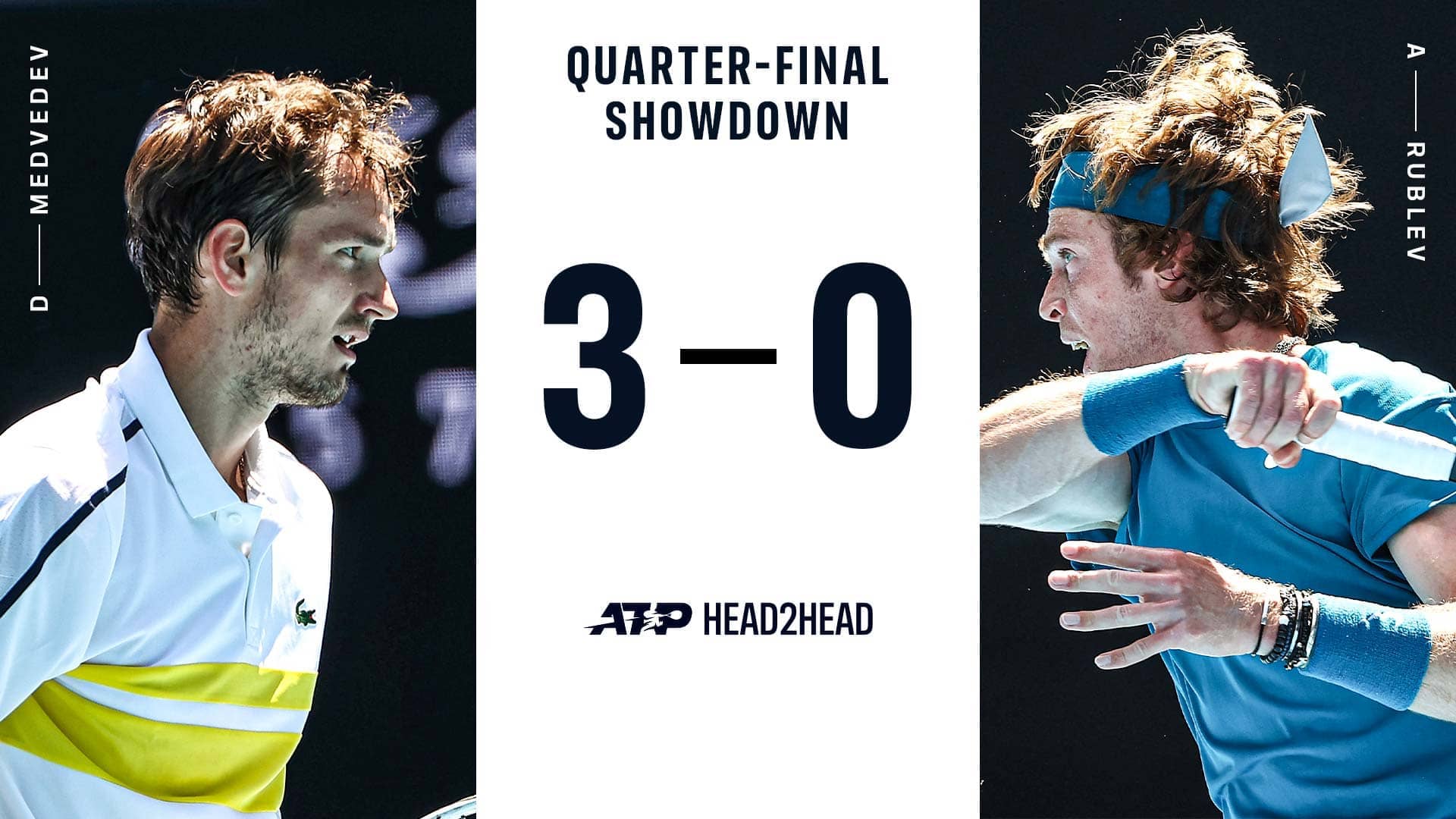 Elsewhere in quarter-final play on Day 10 in Melbourne, fourth seed Daniil Medvedev and seventh seed Andrey Rublev, who less than 10 days ago combined efforts to lead Russia to the ATP Cup title, will tussle in a matchup some penciled in the moment the 2021 draw was released. Both players remain an unbeaten 8-0 in 2021.
"If the level is going to be the same, these guys [are] going to see each other in the quarter-finals," foreshadowed Russia's ATP Cup player/captain Evgeny Donskoy on 7 February.
Into the quarter-finals here for the first time, Medvedev owns a 3-0 advantage in ATP Head2Head matches against his former junior foe. They last met in the US Open quarter-finals in 2020, with Medvedev earning a 7-6(6), 6-3, 7-6(5) victory. But former No. 1 and 1999 Australian Open champ Yevgeny Kafelnikov says you can toss those results out the window on Wednesday. According to the Russian, it's all about who gets out of the blocks first.
"I stick to my view that whoever wins the first set is going to take the match," said Kafelnikov, 46. "Andrey is a great frontrunner. That concerns me a lot when he plays top-level players. He's going to struggle to come back into the match if he loses the first set. In that sense, it's a must for him to win the first set if he wants to get through that quarter-final."
The fact that Rublev has spent so much time around his countryman over the years should only serve him well going forward. Medvedev, two years his senior at 25, has been a trailblazer of sorts; breaking through to his first major final at the 2019 US Open and winning the year-end Nitto ATP Finals in 2020. His fellow Muscovite is a real-time example of all that is possible in this sport.
"He reads the game really well and it's amazing the patience he has to stay so long in the rallies, to not rush, to take his time," said Rublev. "These things are amazing because, in the end, these little details, they make him who he is."
"After the match, we are great friends. There is no rivalry," said Medvedev, who's riding an 18-match winning streak that dates back to October 2020. "Unless there's a huge fight during the match, which I doubt, one of us is going to say congrats to the other. We'll be disappointed with the result, but we'll move on and have many more matches to come."
Regardless of the outcome, these victorious ATP Cup champions have made history in Melbourne. With the troika of Medvedev, Rublev and qualifier Aslan Karatsev all landing in the elite eight, it marks the first time in the Open Era that three Russian men have reached the quarter-finals at a Grand Slam. The question is, which man will join Karatsev in the semi-finals?
More stories like this in: