Federer, Coric In Best Grand Slam Matches Of 2020
ATP Tour Season In Review: Best Grand Slam Matches, Part I
ATPTour.com today kicks off our annual season in review series, beginning with Part 1 of our look at the best Grand Slam matches of the year. This week we'll also look at the biggest upsets and comebacks at the Slams in 2020. Next week, we'll look at the best matches, comebacks and upsets at ATP Tour events.
In A Tale of Two Cities, Charles Dickens wrote, "It was the best of times, it was the worst of times… it was the season of light, it was the season of darkness, it was the spring of hope, it was the winter of despair." Tennis fans and players also went through seasons of darkness and light, hope and despair, all within one challenging and unpredictable roller coaster of a year.
Though in the tennis world, the period of despair occurred in the spring and early summer, when it was unclear if the season could move forward at all. Tennis' spring of hope came a few months late, as the US Open and Roland Garros moved forward, giving the world a much needed diversion in the form of a full month combined of wonderful tennis.
The year got off to a cracking start Down Under at the Australian Open, where the players raised much-needed funds for bushfire relief efforts and the men played dozens of great matches, including 29 five-setters. The cancellation of Wimbledon was a gut punch, but the fact that US Open and Roland Garros came off smoothly and featured so many excellent matches was beyond great.
It was a year of milestones at the majors—Novak Djokovic took his eighth Australian Open, Dominic Thiem won his first major, and Rafael Nadal won his 13th title at Roland Garros. But there were many other great moments too. Here we recount some of the year's best matches at the majors, including some you no doubt saw, and others, like a six-hour epic at Roland Garros, you may have missed.
In Part 1 below, we look at the fifth, fourth and third best Slam matches of 2020, followed tomorrow by a look at what we deem to be the best two Slam matches of the season.
5) Lorenzo Giustino d. Corentin Moutet, Roland Garros, R1, 28 September 2020 (Read Report)
Lorenzo Giustino, a 29-year-old from Naples, Italy, has just one tour-level win in his career. But oh what a win it was. Coming into his first-round match against the 21-year-old Frenchman, Corentin Moutet, then ranked No. 71, he had entered the qualies of 16 majors and had lost in the qualifying rounds 16 times. But his luck seemed to be changing. In his previous major, the Australian Open, he made the main draw as a lucky loser, though he lost in the first round.
Still, there was no reason to believe he would beat Moutet, a promising young French talent in Paris, particularly after Moutet bageled him in the first set. But Giustino battled back, winning the second and third sets in tie-breaks, before losing the fourth 6-2. By the start of the fifth set, the match had already been going on for three hours and five minutes, but little did either man know they still had a three-hour fifth set to play (Roland Garros is the only major where players must win by two in the fifth set).
Moutet, nicknamed 'Colonel Moutet' by Brad Gilbert, served for the match three times in the fifth, but was broken each time. Not that service breaks were a rarity in the match, mind you. Moutet was broken nine times, Giustino thirteen. Moutet also outscored his opponent by 242 points to 217, and blasted 31 more winners. But none of that mattered, as Giustino came up with gutsy, ingenious clay court tennis to prevail 0-6, 7-6(7), 7-6(3), 2-6, 18-16 in what was, at six hours and five minutes, the second-longest match in Roland Garros history, next to the six-hour, 33-minute contest between Fabrice Santoro and Arnaud Clement in 2004.
The Italian claimed that he felt fine after the match.
"No, no, no, I feel perfect," he said, after a reporter asked if he'd be too tired to face Diego Schwartzman in the next round. "Tomorrow I'll go run a bit because I think I'm too fresh."
Sadly for the tenacious Giustino, now ranked No. 149, he lost to Schwartzman and is still looking for his second tour-level win. But he'll always have Paris.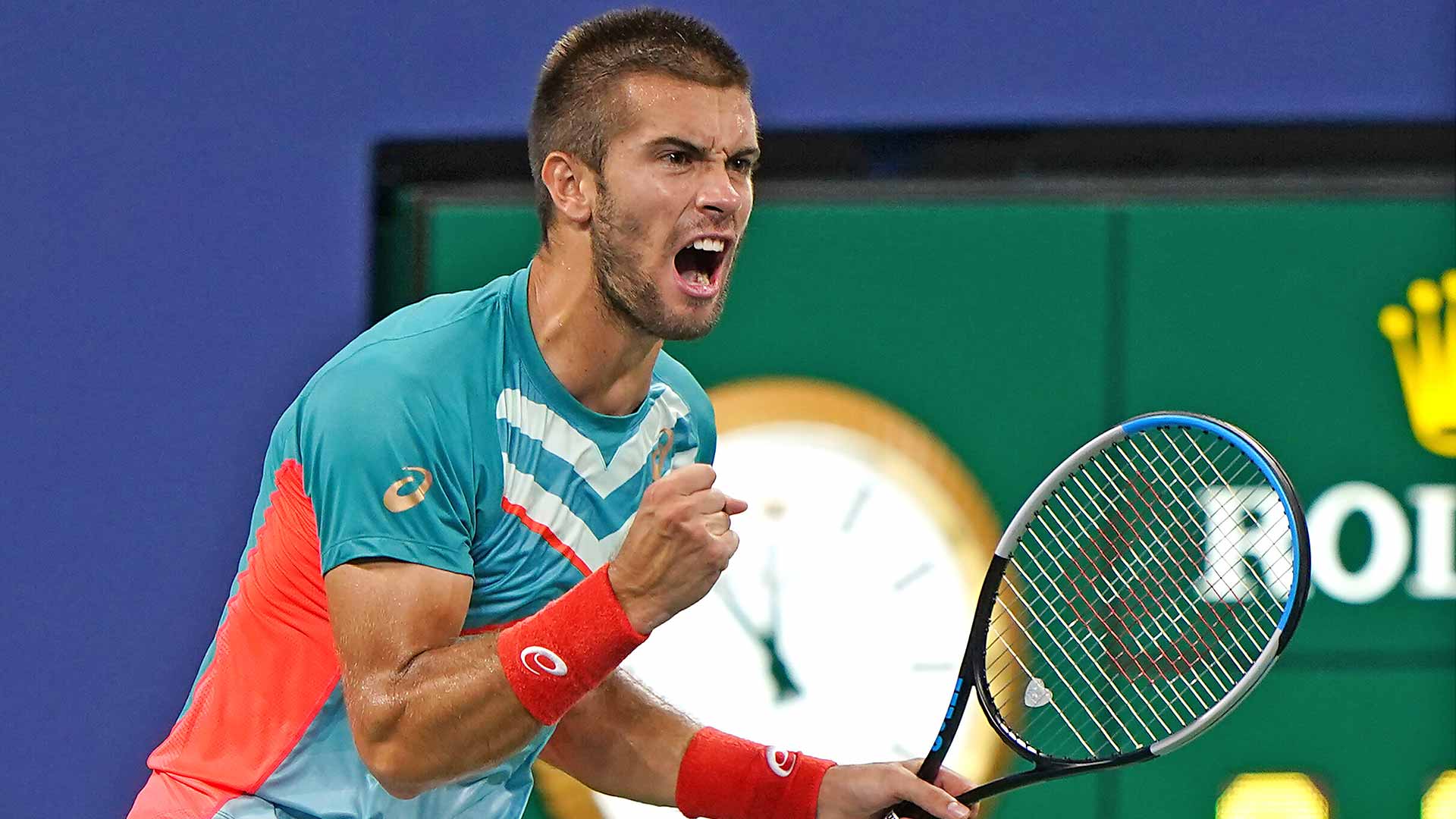 4) Borna Coric d. Stefanos Tsitsipas, US Open, R3, 4 September 2020

Borna Coric has a tattoo that says, "There is nothing worse than being ordinary". Perhaps that ethos kept him from giving up while down two sets to one and 1-5 in the fourth set of his third round match against Stefanos Tsitispas at the US Open this year. Coric, then No. 32 in the FedEx ATP Rankings, knew he'd need to be extraordinary to upset the tournament's fourth seed and indeed he was just that.
Though they're both from Mediterranean countries, are close in age and have younger sisters they adore, the men are a study in contrasts: Coric wears his hair cut short and plays from the baseline; Tstsipas has the long curly locks and comes to net. The Croat burst into the Top 15 in 2018, but seemed to lose a step late in 2019 and into 2020. In his last major appearance prior to the Tsitsipas match, he lost in the first round at the Australian Open. And so, he was in need of a career-pivoting win against a player who, though two years younger, had overtaken him in the rankings.
Up two sets to one and 5-1 in the fourth, it seemed certain to be another disappointing tournament for Coric, until he held and broke back to narrow the gap. Tsitsipas' game was slipping but he still had three match points at 5-4, 40-0. But he squandered each of them, and the then 23-year-old Croat stormed back, winning six consecutive games to take the fourth set 7-5.
Despite the fourth set collapse, Tsitsipas admirably recovered, playing well in the fifth set to send the match to a decisive tie-break. Stefanos hit just one double fault across 29 service games, but then served up two in the final tie-break. The hiccups gave Coric a 6/3 lead, which he cashed in on his second match point, giving him a remarkable 6-7(2), 6-4, 4-6, 7-5, 7-6(4) comeback win in four hours, and 36 riveting minutes that amounted to a Greek tragedy for Tsitsipas.
"I have to be honest and say that I was really lucky," said Coric, who subsequently beat Jordan Thompson in the next round before falling to Alexander Zverev in the quarter-finals. "I made some unbelievable returns and I was a little bit lucky at the end. In the third and fourth set, he was playing unbelievable tennis and I felt like I had no chance. In the fifth-set tie-break, I knew it was not going to be easy for him, so I tried to just keep the ball in court and make him play as many balls as possible."
For his part, the Greek kept his sense of humour and perspective after the loss. "This is probably the saddest and funniest thing at the same time that has ever happened in my career," tweeted Tsitsipas.
The win would indeed be a season changer for Coric, who finished the season at No. 24 in the FedEx ATP Rankings largely on the strength of his quarter-final showing and a subsequent run to the final at the St. Petersburg Open, where he beat Reilly Opelka and Milos Raonic before falling to Andrey Rublev.
3) Roger Federer d. John Millman, Australian Open, R3, 24 January 2020 (Read Report)
John Millman is one of the hardest working, and nicest, players on the ATP Tour. But the 31-year-old Aussie has a career record that includes more losses than wins and he has never cracked the Top 30. Nothing about his career would suggest that he'd be Roger Federer's kryptonite—even his career record (1-3) against the Swiss legend doesn't adequately reveal the fits Millman has given Federer in recent years.
Millman, then ranked No. 55, notched a historic upset over Federer at the 2018 US Open in stifling heat, and played him close in two other losses, in Brisbane in 2015 and in Halle in 2019. But when they met again, earlier this year in the second round of the Australian Open, Federer still came into the match as a decisive favourite. Millman even referred to the possibility of him beating Federer again as "lightning striking twice".
But when the tenacious, uber-fit Millman went up an early break against Federer in the fifth set, it looked as if the maestro from Münchenstein was indeed about to be struck down twice by the Aussie. The raucous crowd didn't know whom to support—the Aussie underdog or the beloved champ, who oddly became a bit of an underdog in his own right. Federer fought back, levelling the fifth set at 2-2, but in the fifth-set tie-break (first to 10, win by two), Millman steamed out to 3/0 and 8/4 leads.
Video courtesy Tennis Australia
Federer kept his cool though, reeling off six straight points, punctuating a remarkable, 4-6, 7-6(2), 6-4, 4-6 7-6(8) win with a cross-court forehand winner into open space.
"Oh God, it was tough," Federer said of his 100th Australian Open win after the match. "Thank God it was a Match Tie-break, otherwise I would have lost this one…A bit of luck maybe goes one way… I didn't play too bad after all and I was getting ready to explain myself in the press conference… What a match and John deserves over half of this one."
Two matches later, Federer would save seven match points against Tennys Sandgren in the quarter-finals, extending his streak of fifth-set Australian Open victories to six, dating back to 2017. (Hint: Look out for that match to appear in our list of best Slam comebacks later in the week.)
Coming Tuesday: The best two Grand Slam matches of 2020.
More stories like this in: