ATP Tour Season In Review: Doubles In 2019
Learn the highlights of the 2019 doubles season
Continuing our Season In Review series, ATPTour.com looks at the headlines that shaped 2019 on the doubles circuit.
Cabal/Farah Reach The Mountaintop
In 2018, Juan Sebastian Cabal and Robert Farah made their big breakthrough as a duo. The Colombians, who first partnered one another at the Futures level in 2004, earned 39 tour-level wins and qualified for their first Nitto ATP Finals.
But this season proved even better for the longtime friends and partners, becoming just the second all-South American duo to finish year-end No. 1 in the ATP Doubles Team Rankings (since 1984). In 1986, Chilean Hans Gildemeister and Ecuadorian Andres Gomez accomplished the feat.
"It's an honour to receive this trophy, being alongside the names engraved on it," Farah said during an on-court presentation at the Nitto ATP Finals, where the Colombians were the top seeds and reached the semi-finals. "Starting the year, it was difficult to predict we'd end it as the No. 1 team. It's a dream come true and I'd like to thank everyone who is here for supporting us."
Read: Cabal/Farah Presented Year-End No. 1 Trophy
Cabal and Farah captured five of their 17 tour-level titles in 2019, and they own a 3,655-point lead in the ATP Doubles Team Rankings ahead of No. 2 Lukasz Kubot and Marcelo Melo.
Last year, Cabal and Farah won their first ATP Masters 1000 title in Rome, and they retained that trophy this season at the Internazionali BNL d'Italia, and it only got better from there. The Colombians captured their first two Grand Slam titles at Wimbledon and the US Open, respectively.
Herbert/Mahut Show Their Class
Pierre-Hugues Herbert and Nicolas Mahut only competed together eight times in 2019, but they began and finished their season with a bang.
The Frenchmen completed their Career Grand Slam at the Australian Open, winning the season's first major without losing a set from the quarter-finals on. Herbert and Mahut became the eighth men's doubles team to lift all four Grand Slam trophies.
After losing two of their next three matches, the Frenchmen did not play together until Cincinnati, with Herbert choosing to focus on singles. He only played doubles three times between the Rolex Monte-Carlo Masters and the Western & Southern Open — including Wimbledon with Andy Murray.
It appeared that lay-off may have been detrimental to this team, with Herbert and Mahut losing in the second round in Cincinnati and the first round of the US Open. But after making the semi-finals in Vienna they found their best form, winning the Rolex Paris Masters and then the Nitto ATP Finals without dropping a set at either event.
The season finale was a special victory for the Frenchmen after letting slip a championship point against Mike Bryan and Jack Sock last year. It was the perfect ending to their 2019 campaign.
"It is pretty special [to win this trophy]. Maybe, for doubles, it is one of the toughest tournaments to win," said Herbert. "After our story in London — we had three really tough years and last year we had a match point in the final — being able to win here is an amazing feeling."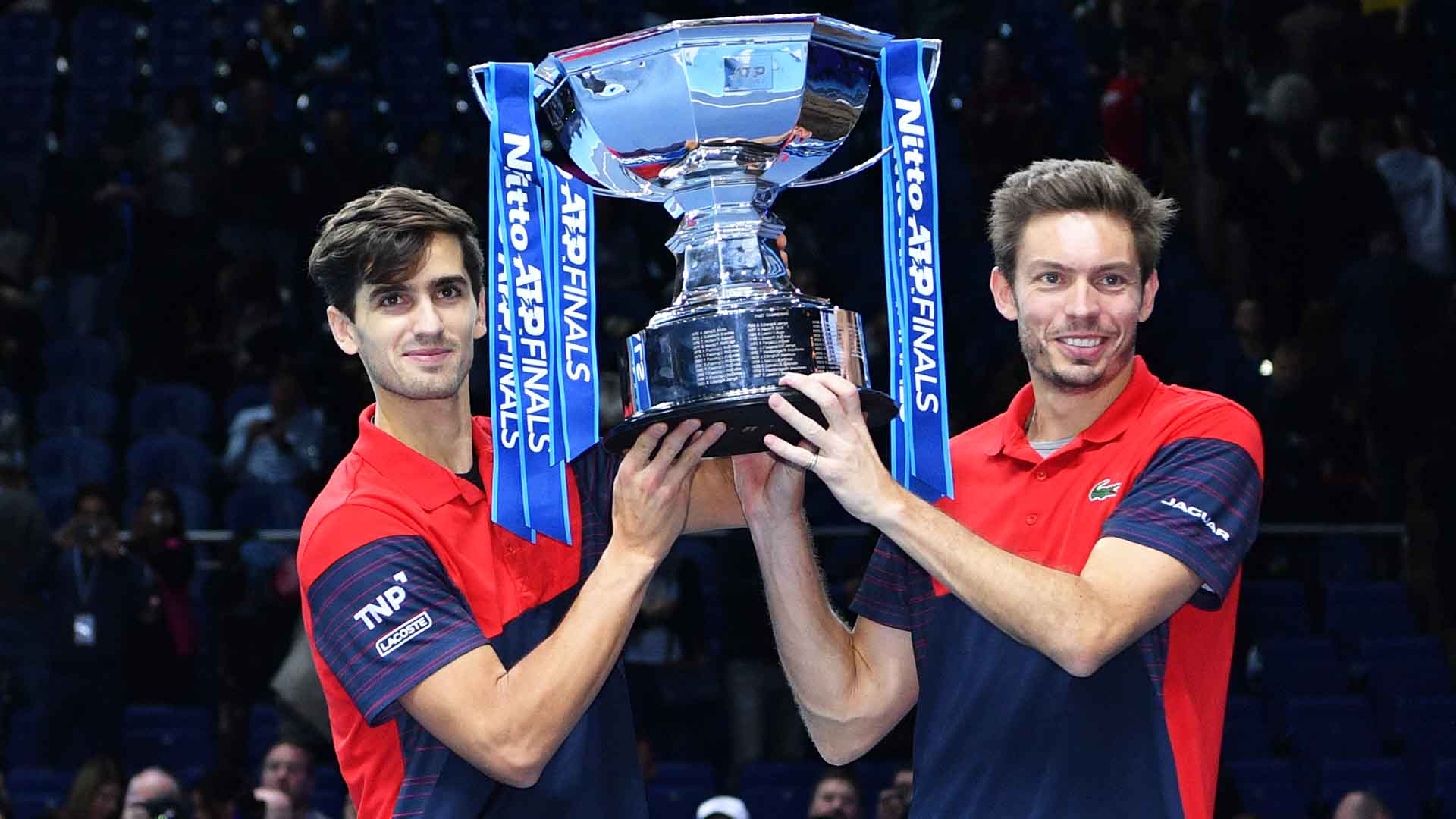 New Teams Break Through
Three teams broke through to qualify for the Nitto ATP Finals for the first time together this year.
One year ago, Kevin Krawietz and Andreas Mies finished in 87th place in the ATP Doubles Race To London. But the Germans got off to a fast start in 2019, and they never looked back. Krawietz and Mies, who had competed mainly on the ATP Challenger Tour before 2019, won the New York Open for their first ATP Tour title, claimed their maiden Grand Slam trophy at Roland Garros and triumphed in Antwerp.
Rajeev Ram had previously qualified for the Nitto ATP Finals twice, in 2016 and 2017, but he did so then with Raven Klaasen. The American teamed with Brit Joe Salisbury for the first time this year, and the result was a 39-win season that included two ATP 500 titles and a trip to The O2. Ram and Salisbury were victorious in Dubai and Vienna, using those results to propel them into a spot at The O2.
The last of the team's is Filip Polasek and Ivan Dodig. The Slovak-Croat team first got together in Antalya, which took place in the last week of June. Yet they clicked immediately, and pulled off a stunning run that saw them qualify for the Nitto ATP Finals. Dodig and Polasek made at least the semi-finals in eight of the 11 tournaments they played before London, triumphing in Cincinnati and Beijing while also finishing runner-up in Antalya and making the last four at Wimbledon.
Polasek's Comeback
Polasek cracked the Top 10 of the ATP Doubles Rankings in November ahead of the Nitto ATP Finals. But less than 17 months earlier, the Slovak had no points at all.
That's because when Polasek was 28, he was forced to retire due to injury, and he did not play professional tennis again for more than four years after that. Polasek had won 11 ATP Tour doubles titles and reached 13 additional finals. But a nerve issue in his back — he had loose discs in his spine — did not allow him to continue.
Read My Point: Re-Making Polasek After Five-Year Retirement
Even after retirement, Polasek still suffered from pain, so much so that coaching lower-level pros and even older juniors proved too tough of a task physically. He couldn't even consistently play floorball recreationally. But last May, a chance meeting with Mike Bryan in Slovakia started the ball rolling on his comeback, and Polasek has not looked back since.
"If you told me that 15 months later I'd be sitting here as an ATP Masters 1000 champion, I would have told you that you're crazy. I would never ever bet even a dollar on it. It's been an incredible journey. But after everything I've been through, this is just the beginning," Polasek wrote in a first-person essay for ATPTour.com in August.
Bob Bryan Returns From Hip Surgery, Bros Announce 2020 Retirement
Mike Bryan finished 2018 on a high, winning Wimbledon, the US Open and the Nitto ATP Finals with Jack Sock. His brother, Bob Bryan, underwent hip surgery last August, leaving an uncertain future for the twins.
But the Bryan brothers made their return in Brisbane this year and quickly clicked into form. The Americans made the quarter-finals of the Australian Open and triumphed in Delray Beach before hitting their highest note of the season in Miami, where they captured their 39th Masters 1000 trophy together, putting them in second place in the ATP Doubles Race To London.
Read About The Bryans' Upcoming Retirement
The Bryan brothers won 35 tour-level matches together in 2019, earning their 1,100th team win in Cincinnati and qualifying for the Nitto ATP Finals, but electing not to participate. They announced that 2020 will be their final season, planning to bring their historic careers to an end at the US Open. The Bryan brothers own 118 tour-level doubles titles together.