ATP Tour Season In Review: Doubles In 2020
Pavic/Soares finish No. 1, Koolhof/Mektic break through in London
Continuing our Season In Review series, ATPTour.com looks at the headlines that shaped 2020 on the doubles circuit.
Pavic/Soares Finish Partnership At No. 1
After joining forces at the 2019 Fever-Tree Championships, Mate Pavic and Bruno Soares built on a strong start to their partnership to finish the 2020 ATP Tour season as the No. 1 pair in the FedEx ATP Doubles Team Rankings.
After struggling for form in the opening months of the year, Pavic and Soares returned from the ATP Tour suspension in August with a loss in their opening match at the Western & Southern Open. The Croatian-Brazilian tandem entered the US Open with just four wins from 10 matches in 2020, but Pavic and Soares found their best form in New York to kickstart their season and lift their biggest team title. After securing comeback wins in their first two matches, Pavic and Soares did not drop a set from the quarter-final stage to take the trophy.
The US Open champions maintained their form throughout the remainder of the 2020 season, as they finished runners-up at the Hamburg European Open, Roland Garros and the Rolex Paris Masters. Pavic and Soares completed their season with two wins from three matches at the Nitto ATP Finals, as they took their record in 2020 to 22-11. Pavic and Soares will compete with new partners in 2021. Pavic will combine with Nikola Mektic, while Soares will reunite with Jamie Murray.
"It's a very special moment for us, finishing year-end No. 1," said Soares. "I think it's a massive achievement and it shows how well we played throughout the year. How consistent we were, winning big tournaments."
"I am very happy for Bruno and myself to end the year No. 1. It was a great partnership, and a good achievement to end the partnership," said Pavic.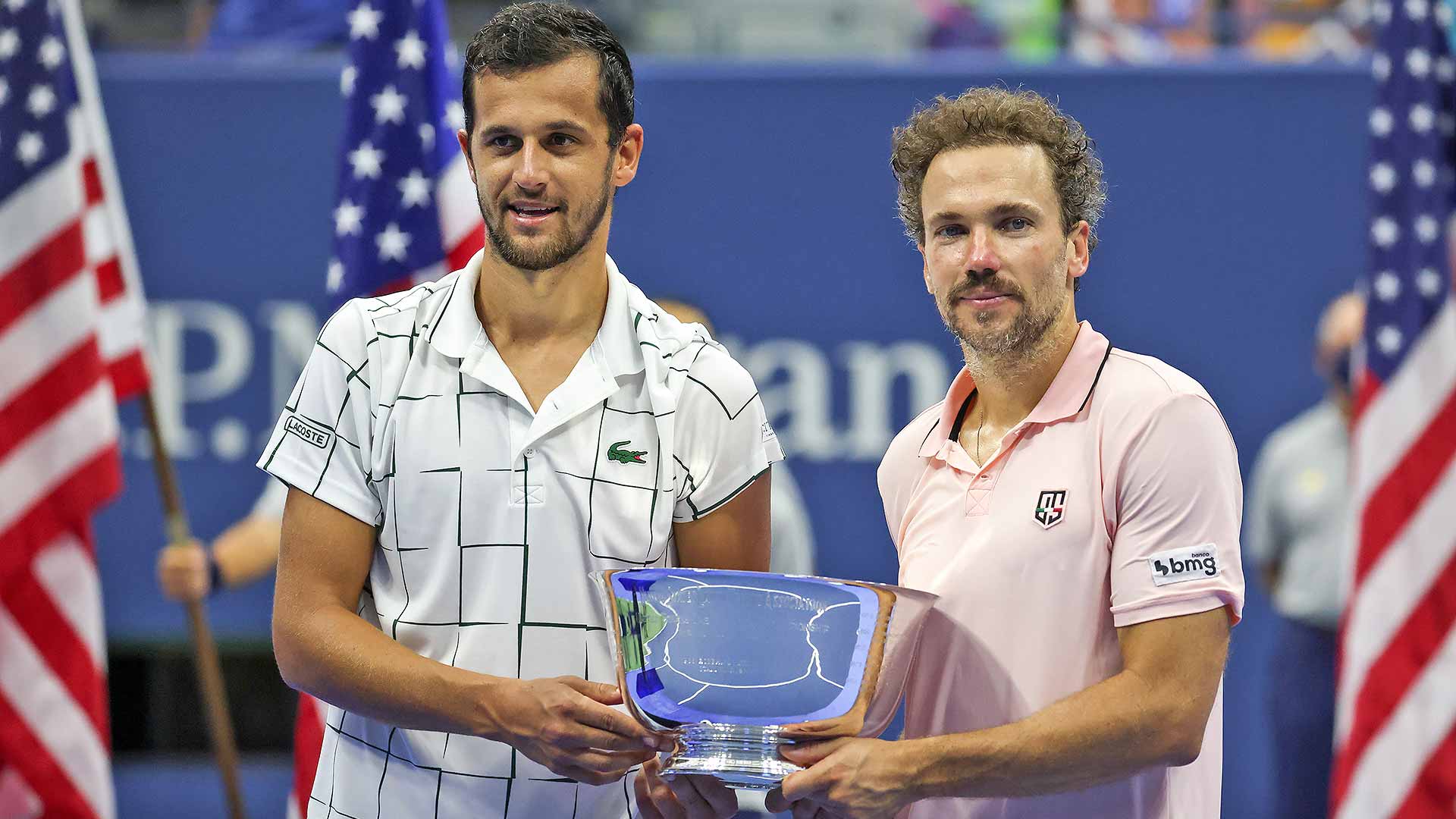 Ram/Salisbury Claim Maiden Grand Slam Crown
Rajeev Ram and Joe Salisbury began their 2020 campaign with confidence after a consistent 2019 season. The American-British duo won two trophies from five finals last year and wasted little time adding to their collection in 2020. Following a quarter-final run at the Adelaide International, Ram and Salisbury dropped just one set en route to their maiden Grand Slam title as a team at the Australian Open. The 11th seeds held their nerves in the championship match to overcome Aussie wild cards Max Purcell and Luke Saville in straight sets.
"I don't think I thought when I asked you to play just over a year ago that we'd be standing here now, but it's been an honour to play with you," Salisbury said to Ram. "It's been so much fun to have you as my partner and as my friend. Thank you so much for being the best partner I could get."
Ram and Salisbury came back from the ATP Tour suspension in sharp form, as they reached back-to-back semi-finals at the Western & Southern Open and the US Open in New York. The pair, which also reached the Roland Garros quarter-finals, won two of their three round robin matches to reach the semi-finals at the Nitto ATP Finals in London.
Ram and Salisbury needed to reach the championship match at The O2 to clinch the year-end No. 1 position in the FedEx ATP Doubles Team Rankings, but they fell short of the mark after losing 11/9 in a Match Tie-break to St. Petersburg champions Jurgen Melzer and Edouard Roger-Vasselin. Ram and Salisbury finished the year as the No. 2 team with a 20-9 record.
Koolhof/Mektic's Maiden Moment
Wesley Koolhof and Nikola Mektic made their team debut at the Adelaide International in January, but it wasn't until their fourth tournament as a pair that they showed fans their full potential. After picking up just two wins from their first three outings as a duo, the pair finished as the runner-up team at the Open 13 Provence in Marseille.
When the ATP Tour resumed in August, Koolhof and Mektic built on that result with a quarter-final run at the Western & Southern Open. With increased confidence, Koolhof and Mektic beat Sander Gille/Joran Vliegen and Australian Open champions Ram/Salisbury to reach their first Grand Slam final at the US Open (l. to Pavic/Soares).
Koolhof and Mektic continued to show consistency on clay with semi-final runs in Hamburg and at Roland Garros. But the pair's milestone moment came in their final tournament as a team at the Nitto ATP Finals in London. The fifth seeds topped their group with a 2-1 record and battled past Marcel Granollers/Horacio Zeballos and Melzer/Roger-Vasselin at the season finale to lift their first team trophy. The Dutch-Croatian pair compiled a 24-13 record and finished the year as the No. 3 team in the FedEx ATP Doubles Team Rankings.
"It's [an] unbelievable feeling. It's not just the way to finish this year. This is something to remember throughout [our] whole lives," said Mektic. "This is for sure my biggest achievement of my life and of my career, so this is something that I will remember forever.
"[We] managed to play some very good tennis… To play the final of the [Nitto ATP] Finals is very big and [we are] extremely happy to have won," said Koolhof.
Krawietz/Mies Repeat In Paris
Prior to the suspension of the ATP Tour in March, Kevin Krawietz and Andreas Mies' best result was a semi-final run at the Open 13 Provence in Marseille. In fact, the Germans arrived in Paris for the defence of their Roland Garros title with nine wins from 20 matches in 2020.
Krawietz and Mies recaptured their best form on the Parisian terre battue, as they charged to their second straight title in the French capital. From the quarter-final stage, the Germans beat Jamie Murray/Neal Skupski, Koolhof/Mektic and Pavic/Soares in straight sets to improve their unbeaten record at Stade Roland Garros to 12-0.
"It is hard to describe what is going through our heads right now. It is unbelievable," said Mies. "I think this achievement is even bigger than winning last year. To win a Grand Slam title is always big, but to defend it is even more difficult. It is incredible that we did and we are unbelievably happy right now. We cannot believe it."
Just two weeks later, Krawietz and Mies reached their second final of the year on home soil at the bett1HULKS Championship in Cologne (l. to Klaasen/McLachlan). The two-time Roland Garros champions ended the year with their second straight appearance at the Nitto ATP Finals in London (1-2).
Regular Success
During a shortened 2020 ATP Tour season, two pairs managed to capture three ATP Tour titles this year: Granollers/Zeballos and John Peers/Michael Venus.
Granollers and Zeballos won 18 of their 20 matches on clay to win three titles from four finals on the surface in 2020. The Spanish-Argentine duo picked up back-to-back trophies in Buenos Aires and Rio de Janeiro in February and also reached consecutive finals on the dirt in September in Kitzbühel (l. to Krajicek/Skugor) and Rome (d. Chardy/Martin).
Fellow Nitto ATP Finals qualifiers Peers and Venus earned two of their three trophies this year at ATP 500 events. The Aussie-Kiwi pair claimed crowns in Dubai and Hamburg, before adding an ATP 250 trophy to their collection in Antwerp. France's Nicolas Mahut also claimed three trophies in 2020 (with multiple partners).
Peers and Venus were not the only team to win two ATP 500 trophies this year. Lukasz Kubot and Marcelo Melo also achieved the feat with title runs in Acapulco and Vienna. Kubot and Melo ended their four-year partnership at the Nitto ATP Finals in London. The pair won 14 tour-level team trophies, including the 2017 Wimbledon title and four ATP Masters 1000 crowns.
Bryan Brothers Bid Farewell
Just days before this year's US Open, doubles legends Bob Bryan and Mike Bryan announced their retirement. The Americans captured an Open Era record 119 tour-level trophies as a team, including wins at all four Grand Slams, all nine ATP Masters 1000s, the Nitto ATP Finals and the Olympic men's doubles event, in which they won the gold medal. The 10-time year-end No. 1s also finished their careers with the all-time team records for Grand Slam titles (16 from 30 finals) and Masters 1000 crowns (39 from 59 finals).
The 14-time ATP Tour Fans' Favourite Team award winners made their final ATP Tour appearance at the Delray Beach Open by VITACOST.com in February. Rather fittingly, the Bryans ended the event with a tournament record sixth doubles crown. The American twins finished their careers with a 1,108-359 team record.
"We're most proud of the way we devoted ourselves completely to the game and gave our full effort every day," said Bob Bryan. "Our loyalty toward each other never wavered and we are leaving professional tennis with zero regrets. We'll miss the competition and camaraderie amongst the players. We'll also miss the excitement of gearing up for a big match and playing for the roar of the fans."
"We feel it's the right time to walk away," said Mike Bryan. "We've given over 20 years to the Tour, and we are now looking forward to the next chapter of our lives. With that said, we feel very blessed to have been able to play the game of doubles for so long. We are grateful to have had the opportunities in the beginning of the year to play and say our goodbyes to the fans. Winning our final event in Delray Beach and clinching the Davis Cup tie in Honolulu are moments we'll forever remember and cherish."