Day 1 Preview: Djokovic Continues No. 1 Push; Federer Tries To Turn Tide On Thiem
Stars set for first day of action at The O2
Novak Djokovic needs every win he can get in London as he continues his push for a sixth finish atop the year-end No. 1 ATP Rankings. The Serbian will need to get off to a good start against Matteo Berrettini on Sunday as the Nitto ATP Finals begin, with five-time champion Roger Federer also in action as he tries to snap a two-match losing streak against Dominic Thiem.
Djokovic has never faced Berrettini before, but he will need to adjust quickly against the Italian, who is making his debut at the season finale. Berrettini has quickly emerged in 2019. As the 2018 Nitto ATP Finals began, he was outside the world's Top 50. Now, the 23-year-old is World No. 8, having proved he can compete with the best players out there.
"It's a great message for the sport. It was inevitable that it was going to happen that we were going to have a really successful next generation coming in," Djokovic said. "I think Roger, Rafa and I are still glad that we are kind of in the mix. How long that's going to go for? Of course it's not going to go forever."
It's time.#NittoATPFinals pic.twitter.com/Zm5HSbu9zn

— ATP Tour (@atptour) November 10, 2019
Djokovic will hope to stave off Berrettini's charge in Sunday's first match, though. The second seed has won 10 straight opening round-robin matches at the year-end championships, with his most recent loss in his first match at this tournament coming in 2007 against David Ferrer. A victory for the Serbian will be his 36th at the Nitto ATP Finals, which would put him in a tie with former World No. 1 Boris Becker for the third most in the event's history.
Berrettini will be plenty motivated to spring the upset. The eighth seed is the first Italian to qualify for the season finale since Corrado Barazzutti in 1978. Neither Barazzutti or Adriana Panatta — the only previous Italian Nitto ATP Finals competitors — have won a round-robin match at this tournament.
But this rising star has not backed down from any challenge in 2019. He has earned the first five Top 10 victories of his career, and will look to impose his powerful game — based on his big serve and booming forehand — on the Serbian to control the action.
"I've never played him, so it's going to be all new: the atmosphere, the finals, him. It's going to be a huge, huge experience, a huge moment for me for my career. But like I did the previous years, I'm really looking forward to learn something, [I am going] to put a lot of effort [like I did] to put myself in this situation," Berrettini said. "For sure I'm stepping on the court thinking about beating him, but we'll see what's going to happen."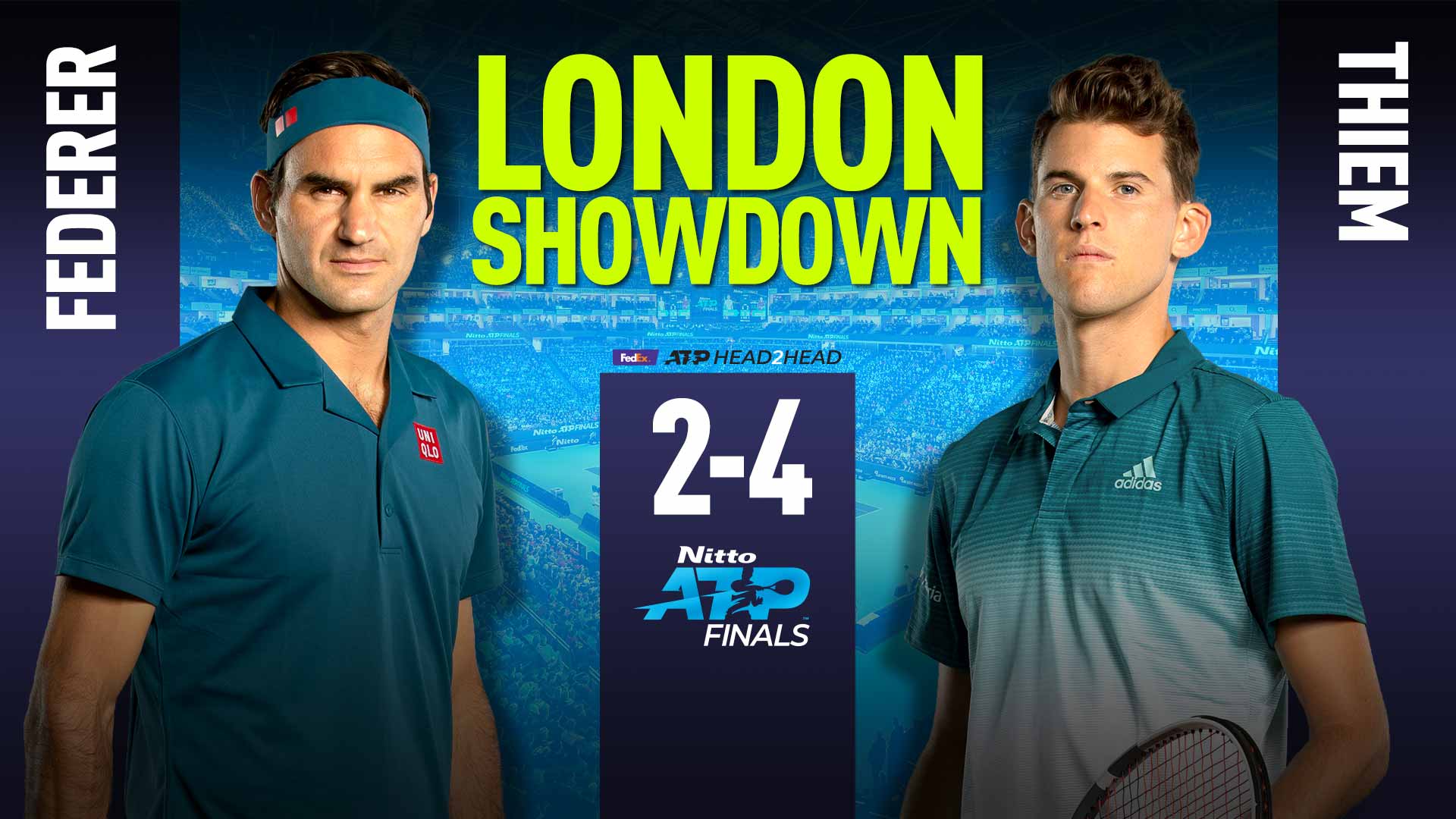 Federer and Thiem, who will play in the evening singles match, are far more familiar with one another. Thiem leads their FedEx ATP Head2Head series 4-2, and he carries momentum from two strong performances against the Swiss superstar this season.
The Austrian, who is the fifth seed in London, came from a set down in the Indian Wells final and the Madrid quarter-finals to defeat Federer. At the BNP Paribas Open, his comeback resulted in his first hard-court ATP Masters 1000 title, while he saved two match points against the Swiss in Spain. Thiem is one of 74 players to face Federer at least six times, and he is one of only five with a winning record.
Federer lost just five games against Thiem in their round-robin clash at The O2 last year, but the 26-year-old is motivated to get off to a fast start at the tournament, with dreams of reaching the semi-finals here for the first time in his fourth appearance.
"Of course that's my big goal. The first two years it was just so nice to be here even and last year I wanted to be in the semi-finals badly, but I didn't play that well. I think I'm playing way better this year, but the level is so high, it's the eight best guys of the season, so it can also happen that I play three very good matches and I lose three of them," Thiem said. "There is no guarantee for nothing but I'll try my best and hopefully I can make it to the semi-finals for the first time."
For his part, the 38-year-old Federer is the oldest player to qualify for the Nitto ATP Finals. The record-holder here for titles (6), finals (10), semi-finals (15), appearances (17) and wins (57) is not ready to slow down, though. He is ready to make a push for his fifth trophy of the season and 104th overall, as he continues to chase Jimmy Connors' record 109.
"Of course it would be nice. I'm not the only guy who has that hope and that dream," Federer said. "We'll see how it goes."
More stories like this in: