Zverev Beats Federer To Reach Final In London
German reaches maiden final at season-ending event
Alexander Zverev became the first German since 1996 to reach the title match at the Nitto ATP Finals after a high-quality victory on Saturday over six-time former champion Roger Federer at The O2 in London. The third seed defeated Federer 7-5, 7-6(5) to follow in the footsteps of his countryman, Boris Becker, the three-time former titlist, who lost to Pete Sampras in a classic final 22 years ago, when the tournament was held in Hannover.
"Against Roger, you have to be the one that is aggressive," Zverev said. "You have to kind of take the time away from him, otherwise he's not going to lose the match, especially in a big match, in a big tournament, where he already found his rhythm. That's what I tried to do. It worked out well."
Federer, who is 16 years older than 21-year-old Zverev, had been pursuing the 100th title of his illustrious career this week and now drops to 10-5 in semi-finals at the season finale, which he first won in 2003 when the tournament was played in Houston.
"I'm very proud that at 37, I'm still so competitive and so happy playing tennis," said Federer. "From that standpoint, I mean, as disappointed as I might be about this match, if I take a step back, I'm actually very happy about the season. It's been an historic season in some ways. Got back to World No. 1. For me, that was a huge moment in my life, to be honest, in my career because I never thought I would get there again."
Zverev will now prepare to play top-seeded Serbian and five-time former titlist Novak Djokovic, who beat fourth seed Kevin Anderson of South Africa during the evening session.
"Novak right now is the best player in the world. It's very tough to beat him. He's barely lost a match in the last six months. He's playing amazing tennis. You have to play your best game to even have a chance."
"Obviously against Kevin, it's a little bit different. He has a different game style. He hits the ball very hard. He serves very well. I have to see tonight who it's going to be. No matter who it's going to be, I'll be ready."
Zverev, who went 2-1 in group play this week, extended his ATP World Tour-best match wins record to 57 in 2018 for a place in the biggest final of his career. He lifted his third ATP World Tour Masters 1000 trophy in May at the Mutua Madrid Open (d. Thiem), then won two other crowns at the Citi Open in Washington, D.C. (d. De Minaur) and the BMW Open by FWU in Munich (d. Kohlschreiber).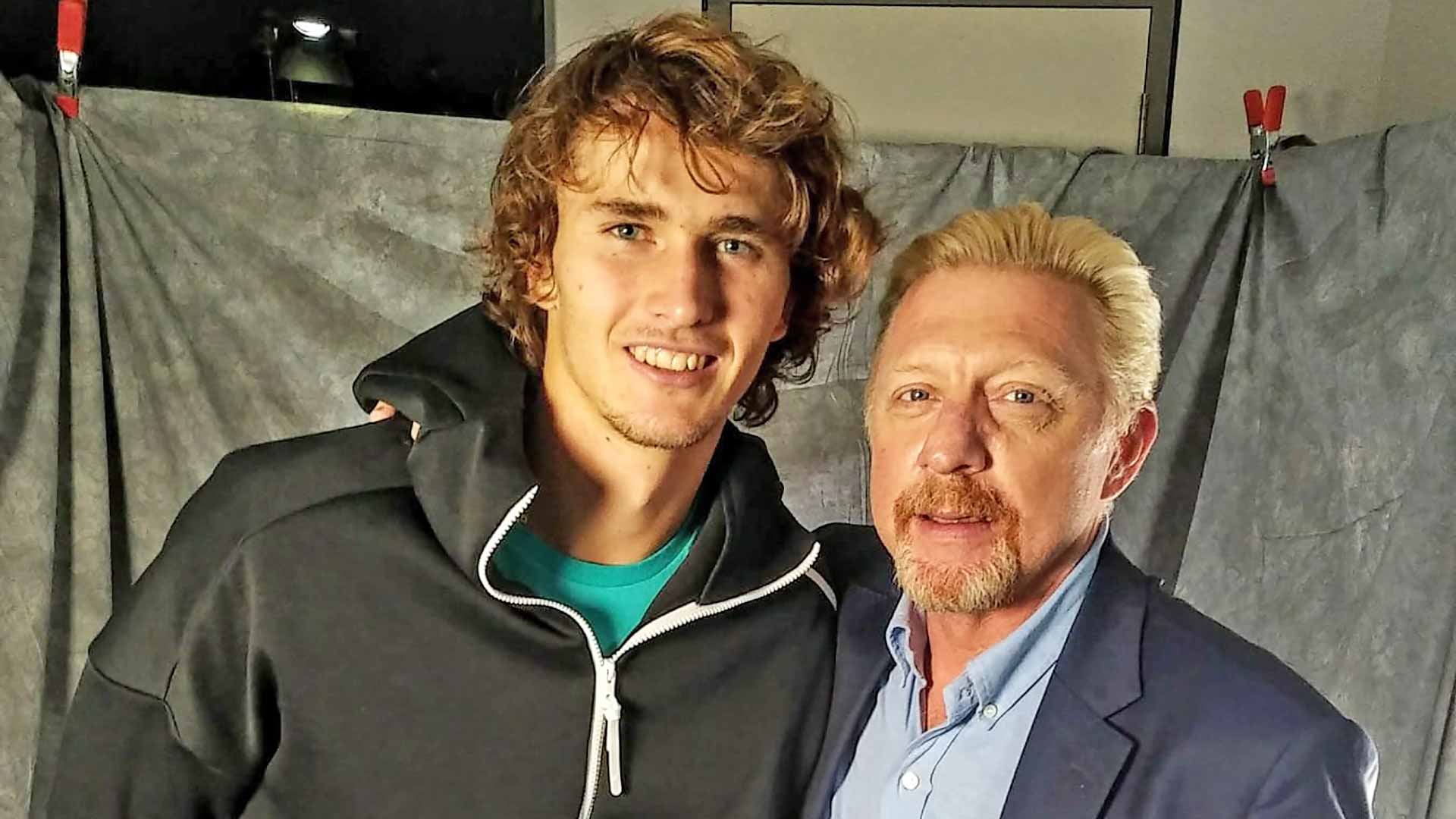 In a first set of small margins, but a high-quality opening, neither player gave away any opportunity on serve in the first set until the 12th game, when consistent and deep returns from Zverev saw him break Federer to love to complete the 40-minute opener.
Federer regrouped immediately and fired a backhand winner off Zverev's serve at 30/40 in the third game of the second set. The lead was short-lived as Zverev's groundstrokes kept Federer behind the baseline in long rallies and the German recovered to 2-2. By virtue of serving first in the set, in addition to his court positioning, Zverev put the pressure on Federer, who dropped to 0/30 at 3-4, but was able to recover the game.
In a tie-break, a fitting end to another competitive set, Federer increased his groundstroke power and continued to mix up his net approaches to keep Zverev on his toes. At 4/5, Federer attacked the net, but dropped his racquet and struck a forehand volley into the net to gift Zverev two match points. Federer saved the first point with a big forehand approach and volley winner, but Zverev closed out at 6/5 with a swinging backhand volley winner. The pair's sixth FedEx ATP Head2Head meeting lasted one hour and 35 minutes.
"I didn't think I was hitting my spots very well for the majority of the match," admitted Federer. "I think it came towards the end, which helped me to make it competitive and close at the very end. I think I could have done better on returning Sascha's first serves, as well, in spells. I thought especially on his first serve in the beginning I struggled. I got into a better rhythm after that. Obviously, having the break and giving it back again, that was disappointing. It reminded me a little bit of the Nishikori situation.
"Sometimes margins are slim, opportunities are rare. It's a point here and there that maybe didn't go my way. Maybe also I didn't push enough or I didn't have enough today to make the difference, to be honest. I was always running after the score most of the time. Over time it catches you, obviously."
Federer, a 16-time qualifier at the Nitto ATP Finals, who beat Zverev 7-6(6), 5-7, 6-1 in the round-robin stages last year, ends his 2018 campaign with a 48-10 match record, including four titles from seven finals.

More stories like this in: