Five Things To Know About France's #NextGenATP Ugo Humbert
20-year-old Frenchman is inside the Top 150 of the ATP Rankings after claiming his first Challenger crown in Segovia
(1) Ugo Humbert is the summer star on the ATP Challenger Tour
It might sound cliché, but for Humbert it couldn't be closer to the truth. If at first you don't succeed, try again. And again.
The 20-year-old entered the month of July with just five match wins on the ATP Challenger Tour in his young career, but he would flip the switch with authority. A final appearance on the hard courts of Gatineau, Canada, would be followed by another run to the championship in nearby Granby a week later.
Humbert was making his Challenger transition look easy, but after falling to Bradley Klahn in Gatineau and to Peter Polansky in Granby, he remained in search of an elusive maiden title. It did not take long for that trend to change. On Sunday, the Frenchman lifted his first trophy, defeating Adrian Menendez-Maceiras in the Spanish veteran's backyard of Segovia.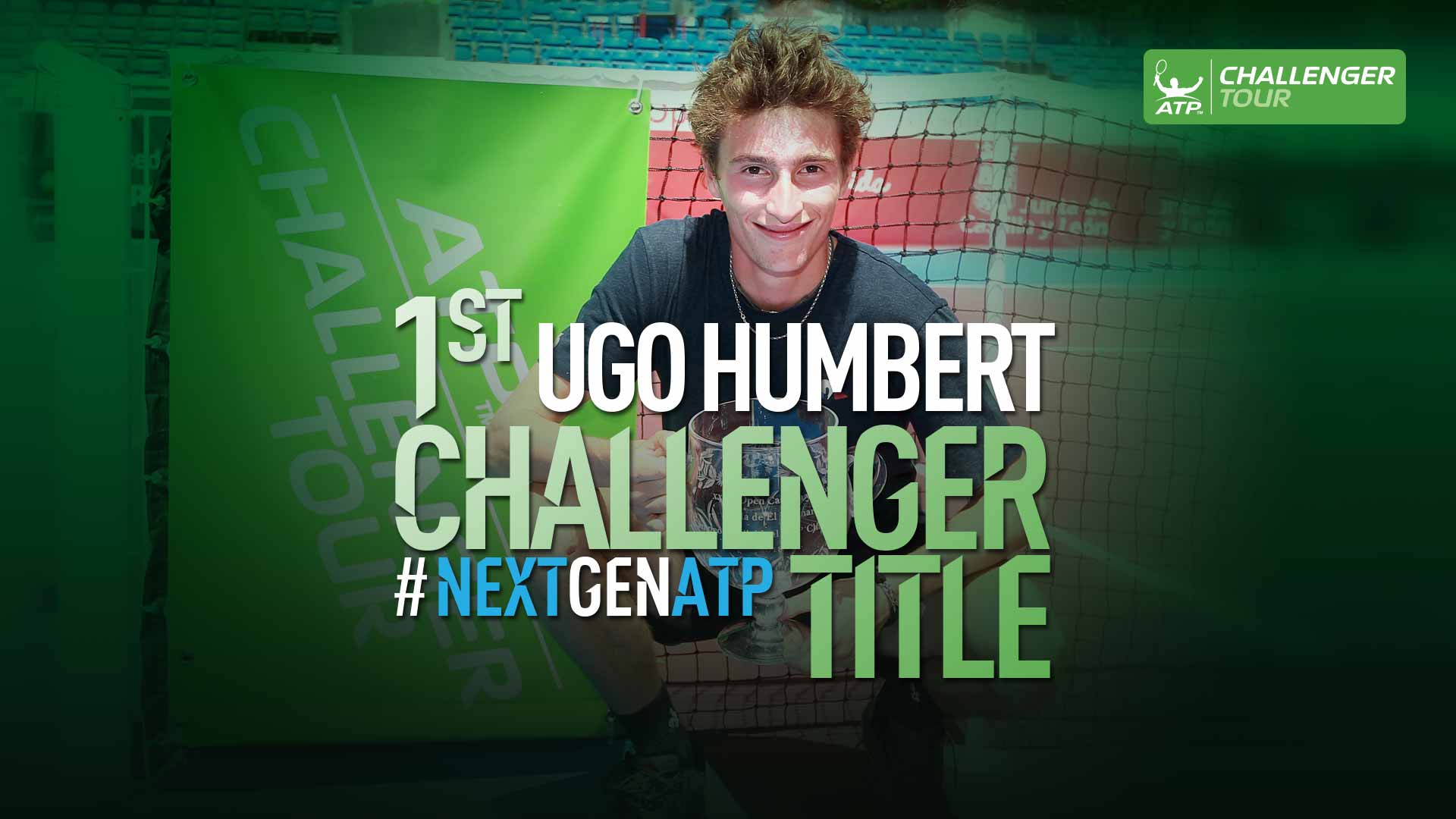 "I'm really happy to win my first Challenger title, after two finals lost," said Humbert. "It means a lot to me. Even if we were in Spain, I have some fans here and I stayed calm, confident and focused on my game."
Not only did Humbert reach three finals in three weeks, he did so on two continents, streaking to victory in Segovia after flying across the pond. His 13 match wins are the most on the Challenger circuit since the calendar flipped to July.
(2) Ugo and Corentin Moutet are leading France into the future
The future of French tennis is left-handed. Humbert and Moutet, both southpaws, are the lone Top 200 players from the European nation aged 20 & under.
Following his dominant three-week stretch, Humbert vaulted a combined 116 spots in the ATP Rankings to a career-high No. 141. While Moutet has been firmly entrenched among the #NextGenATP contingent since his Challenger breakthrough in Brest last year, his compatriot has suddenly thrust himself into the conversation. He credits his countryman for driving his own success.
"I know Moutet very well," Humbert added. "I practise with him often in the French Federation. He's a good guy and he's having a great year. When I see him doing well, that makes me think I can have the same success. We are close to the same age, so if he can do it, I can too.
"I am much stronger mentally from last year to this year. I am working on that with my coach (Cedric Reynaud). Now, I know that I can win a Challenger. For me, it's important. I can be more aggressive with my game and beat good players."
First title for Ugo Humbert!

The 20-year-old 🇫🇷 claims his maiden #ATPChallenger 🏆 in Segovia with a 63 64 win over Adrian Menendez-Maceiras pic.twitter.com/7UrRhlEci0

— ATP Challenger Tour (@ATPChallenger) August 5, 2018
(3) Ugo is a talented pianist
As gifted as Humbert is with a racquet in his hand, he is perhaps even more skilled in front of a piano. The Frenchman first fell in love with music at the age of five and says it is still an integral part of his life. In fact, he believes that playing piano greatly helps him in his tennis career. The ability to disconnect from what transpires between the lines can be critical to success.
"I love music and I play piano and guitar. It is a big part of my life. When I am at the Federation, they have a piano there for me. It helps me to focus and relax, even on the court. It is important to have something like this outside of tennis."
(4) He made a historic splash at last year's Rolex Paris Masters.
Last year, a 19-year-old Humbert earned the respect and admiration of his home faithful at the ATP World Tour Masters 1000 event in Paris. A wild card into qualifying, he would stun World No. 73 Thomas Fabbiano, storming back from a set down to claim his first Top 100 win.
At No. 404 in the ATP Rankings, Humbert became just the second player ranked outside the Top 400 to win a match in Paris - qualifying or main draw.
Got a wild-card into qualies yesterday.
Beat a player ranked 400 spots ahead of him today.

Ugo Humbert is living the dream. #RolexPMasters pic.twitter.com/lyqMYPJxtn

— ROLEX PARIS MASTERS (@RolexPMasters) October 28, 2017
(5) Ugo is making a charge in the ATP Race to Milan
One month ago, Humbert was sitting in 30th position in his quest to qualify for the Next Gen ATP Finals. But, thanks to his trio of Challenger finals and maiden title, he has emerged as a contender to punch his ticket to Milan.
At No. 11 in the latest ATP Race to Milan standings, Humbert is looking to continue his hot streak and make a serious charge towards the coveted Top 7 positions. A run in New York will go a long way. Humbert will make his US Open qualifying debut in two weeks.
"I will go home and rest for a bit, before preparing for the US Open qualifying. That was one of my first goals for this year. Now, I hope to continue to progress in all parts of my game. If I can do that, I know I can continue winning."

More stories like this in: