Read & Watch: Five Things To Know About Thomas Fabbiano
30-year-old Italian not intimidated by top - or tall! - players
Editor's Note: This story was published on 5 July 2019. Thomas Fabbiano has now upset fourth seed Dominic Thiem in the first round of the US Open and will face Alexander Bublik of Kazakhstan.
Thomas Fabbiano registered arguably the biggest surprise through the first two rounds of Wimbledon when he knocked out World No. 6 Stefanos Tsitsipas, avenging his 91-minute defeat to the Greek last year at the All England Club. Prior to that victory Monday, the Italian – who turned pro in 2005 – had never won a set against a Top 20 opponent, though he upset Stan Wawrinka en route to the third round last year at Wimbledon.
He will look to reach the fourth round for the first time at a Grand Slam when he plays Fernando Verdasco on Friday.
ATPTour.com takes a look at five things to know about the Italian:
1. Began Playing Tennis At Six
Fabbiano, who celebrated his 30th birthday at the end of May, credits his father for his start in tennis. "I started playing at six years old, thanks to my father who was a member in a small tennis club," he says. "I started to play with the wall. Since that moment, I didn't stop playing tennis."
He grew up idolising Marat Safin and Andre Agassi, but says his style is not similar to either of theirs. He describes it as "a lot of first serving and move with my forehand and make my opponent run from everywhere".
2. Proud Of The Italian Charge
Fabbiano is one of nine Italian men in the Wimbledon main draw at the start of the tournament, and one of three through to the third round, joining Fabio Fognini and Matteo Berrettini. His closest friends on tour, Berretini and Lorenzo Sonego, won grass-court titles respectively in Stuttgart and Antalya leading into Wimbledon.
Read: Italy's Strength In Numbers
"It's going really well. We've won two titles with Matteo and Lorenzo the past two weeks, so it's really amazing the men's side in this moment. Fabio won a [Masters] 1000 a few months ago," he says. "We are all in good shape and hope to continue this way."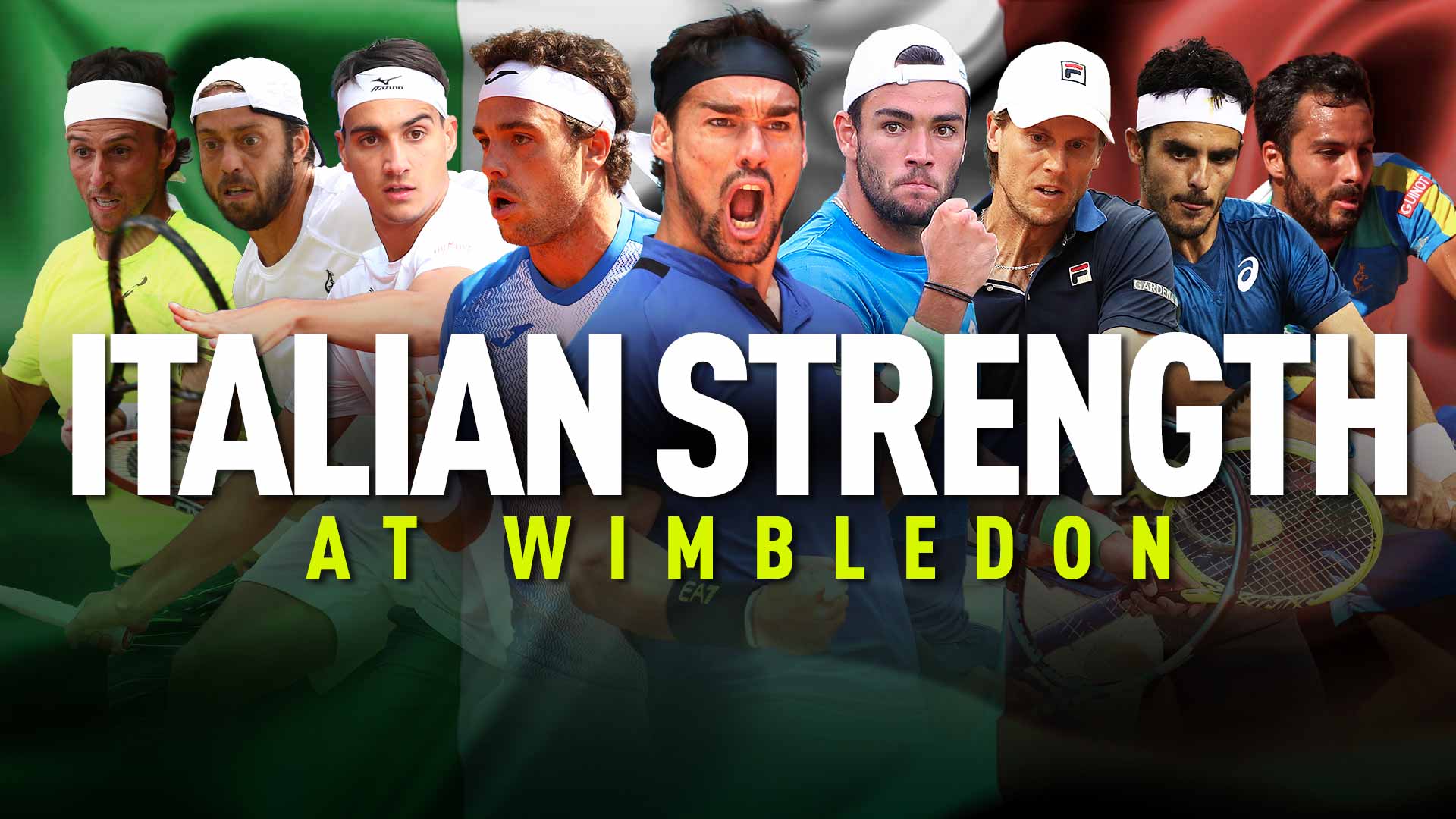 3. Grass Is Now His Most Successful Surface
He may have drawn inspiration from his closest friends' success on grass. Prior to last week's Nature Valley International, Fabbiano had won three career matches on this surface. Entering his third-round match against Verdasco, Fabbiano will have an 8-5 grass-court record.
In Eastbourne, Fabbiano qualified and defeated the likes of Laslo Djere and recent Queen's Club finalist Gilles Simon to reach his first tour-level semi-final. He backed up that run with wins over Tsitsipas and Ivo Karlovic at Wimbledon.
4. He's 5'8", But Likes Playing Tall Players
Fabbiano is not intimidated by players who tower over him. This year, he's defeated the ATP's tallest players – 6'11 Reilly Opelka and 6'11 Karlovic – in Grand Slam action. In January, he withstood 67 aces as he prevailed against Opelka in a fifth-set tie-break in the second round of the Australian Open. On Wednesday, he defeated Karlovic in a 6-4 fifth set to reach the Wimbledon third round.
"I think I like to play with these kinds of guys," says Fabbiano. "I know to be patient, to wait in the right moment to break them. Just have patience: This is the key to play against these kinds of guys."
5. Don't Expect Him To Skydive Again Soon
Off the court, Fabbiano enjoys reading books and going to dinner with friends. Last year in Los Cabos, he enjoyed some of the more adventurous activities on offer, including paddle-boarding and skydiving.
"Skydiving was one of the craziest things I've ever done in my life, and I don't think I'm ready to do it again the next 2-3 years!" he says.
More stories like this in: