Why Medvedev Isn't Worrying About Djokovic
The Russian reflects on reaching third US Open semi-final
Daniil Medvedev could be on a collision course with World No. 1 Novak Djokovic in the US Open final. But after advancing to the semi-finals on Tuesday with a four-set win against Botic van de Zandschulp, the Russian explained why he is not worrying about the top seed.
"I don't think about him, because as we saw, anybody can beat anybody. If he's in the final, and if I'm there, I'm happy. He's also happy, I guess," Medvedev said. "I'm not going to root or cheer for somebody. I'm just going to enjoy the tennis and then prepare for the winner. It's the same every match."
If Medvedev plays Djokovic, he will be the last man standing between the Serbian star and the Grand Slam. But the second seed has long been considered one of the tournament favourites himself, especially with the absence of Roger Federer and Rafael Nadal, who did not compete in New York this year due to injury.
"I don't feel the change of the energy [in the locker room], again, talking for myself. I always try to do my best," Medvedev said in response to a question asking whether there is a different atmosphere in the locker room without the all-time greats. "I don't care if Roger or Rafa are here. I want to win the tournament. It's going to be tougher if they were here, and of course it would be tougher if they would be 30 years old. But I just want to do my best, so I don't care if they are here or not."
The 25-year-old is solely focussed on his next match. Medvedev will be favoured against 21-year-old Felix Auger-Aliassime, who will be appearing in his first major semi-final.
"Whoever wins is going to be on huge fire. You know they are much younger than even me. I'm not old," Medvedev said, cracking a laugh. "But for them, it's going to be [their] first semis of a Slam. Experience is not everything, because when I was in my first semis of a Slam, I won it. Doesn't mean if you're there for the first time you're going to lose it.
"But I like that I have this experience. I know how it is. I'm not going to be tight. I know that. After, it's a question about tennis. If I play good, it's not going to be easy for my opponent. That's the most important thing I'm going to try to do."
This will be Medvedev's third consecutive US Open semi-final. In his maiden major final in 2019, the Russian fell short against Rafael Nadal in a five-set thriller.
"Just to live this match was special," Medvedev said, later adding, "I kind of understood, 'Okay, well, I almost beat Rafa, being two sets down and a break, so I do belong here'."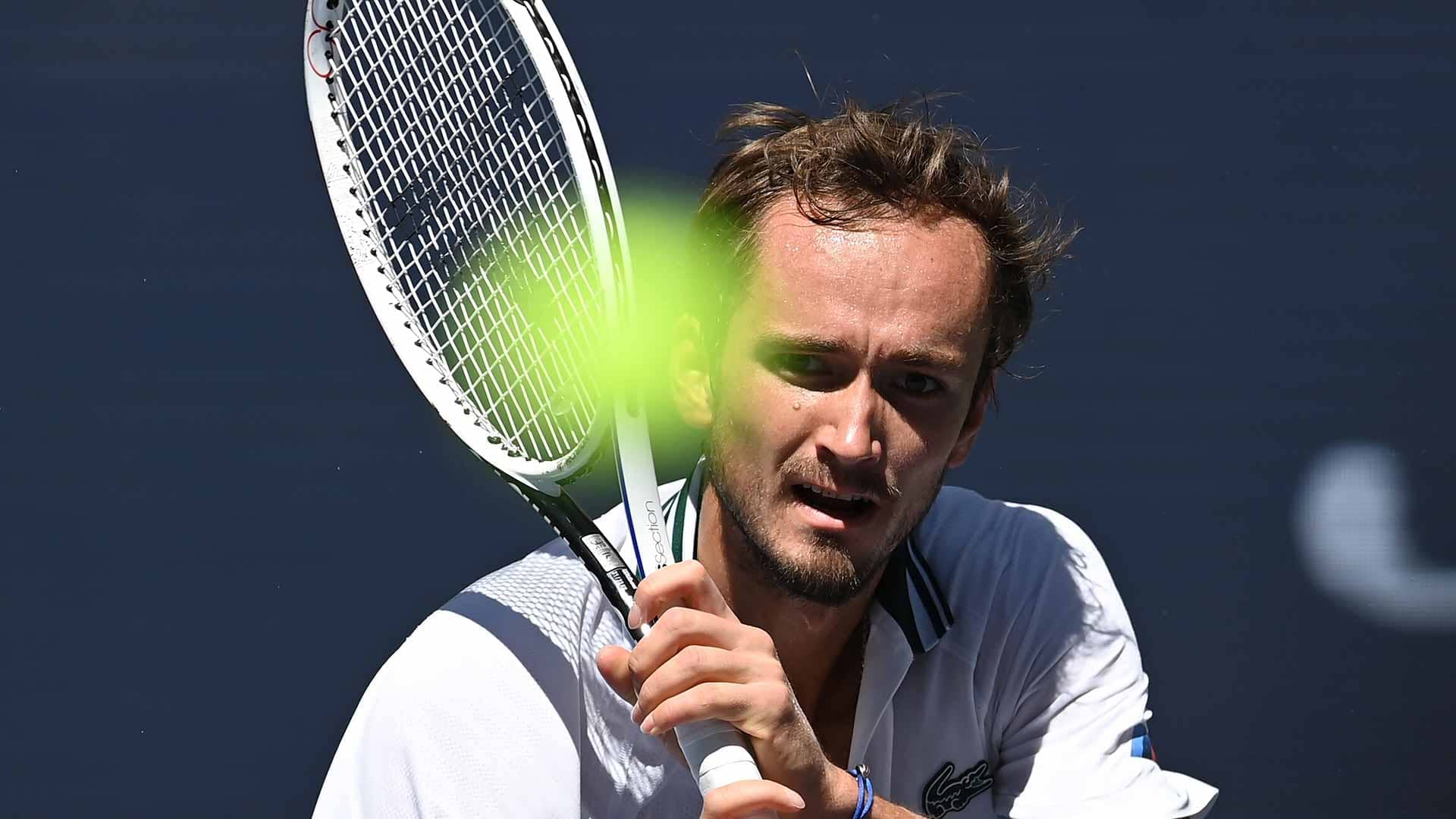 Photo Credit: Garrett Ellwood/USTA
No fans were in attendance at last year's US Open because of the COVID-19 pandemic, but Medvedev still managed to make the last four, where he lost against eventual champion Dominic Thiem in straight sets.
"I was kind of not ready for this match. When I say 'not ready', of course I prepared [for] it well. It's just that he played a really great level and I couldn't find a solution, which I took a lesson [from] and I tried to do better in the Nitto ATP Finals," Medvedev said. "Even if it was super tough, there was a lesson. There's no Dominic here, no Rafa, so I'm just going to try to play my best and see which other lessons I can take."
Medvedev is hoping to become the third Russian male singles champion at a Grand Slam this fortnight, joining Yevgeny Kafelnikov and Marat Safin. But for now, he is not getting ahead of himself. Instead, the second seed is enjoying the moment.
"Really happy to be in the semis again, third time in a row," Medvedev said. "Couldn't dream of it maybe four years ago, but now it's three."
More stories like this in: