Preview: Can Diego Avoid Rafa's Roland Garros Graveyard?
Argentine aiming to become first player to beat Nadal in a Roland Garros semi-final
Last year at the US Open, Diego Schwartzman likened Rafael Nadal to a lion in the jungle. "He's big, he's a fighter, he knows how to play the important moments every single time," he said. "I played him eight times and every time he played the important moments better than me."
Schwartzman is a little guy with a big heart trying to join one of the world's smallest clubs. Experts say that lions can smell blood from up to a mile away — perhaps that's why Nadal has never lost a semi-final match on the red clay in Paris, and the 'I've Beaten Nadal at Roland Garros Club' has just two members: Novak Djokovic and Robin Soderling.
The stakes for what promises to be a cracking semi-final match in Paris Friday are clear — the Spanish brawler is close enough to his record tying 20th major to taste it, but the fearless Argentine has a chance to score a potentially life-changing win while etching his name in the history books with what would be one of the biggest upsets in tournament history.
Can he do it? Going against Nadal at Roland Garros is a poor man's endeavour, but then again, what were the chances of a 5'7" player, whose mother had to sell jewellery at tournaments to finance their travel, making it this far? Soderling, the retired Swede who famously overcame Nadal at this event in 2009, recently remarked that getting crushed 6-0, 6-1 by the Spaniard in Rome just weeks before that match helped him pull off the upset.
Schwartzman, by contrast, notched his first victory in 10 attempts over Nadal a few weeks ago in Rome. A reporter suggested after Schwartzman's epic five-set quarter-final win against Dominic Thiem that perhaps he would have more confidence facing Nadal after this win.
"Well, I'm not sure because if I see the history, I'm 10-1 down," he said, slightly overstating his 1-9 ATP Head2Head record against the sculpted Spaniard. "But yeah, I know this week that I can beat him… I was perfect today. I think after two days I'm going to be perfect in [the] semi-final."
Schwartzman's challenge will be to try to turn the street fight Nadal craves into the kind of chess match where he stands a chance. But while his recent win in Rome might give him confidence, let's not forget that it also gives Nadal — a player known for being charitable off the court but never on it — a little extra motivation, not that he needs it.
If Gordon Ramsay applied for a line cook job at McDonald's, his CV still wouldn't look half as impressive as the Mallorcan gladiator's semi-final resume at Roland Garros, where he's never lost from the semi-final stage. If the tournament built a graveyard for his semi-final victims, the tombstones would read like a display from the International Tennis Hall of Fame: Roger Federer (twice) Djokovic (three times), Andy Murray (twice), David Ferrer, Thiem, and Juan Martin del Potro.
That collection of legends has taken a grand total of three sets — all won by Federer and Djokovic — across 12 matches. This year marks the 11th time Nadal has steamrolled his way to the semi-finals without dropping a set.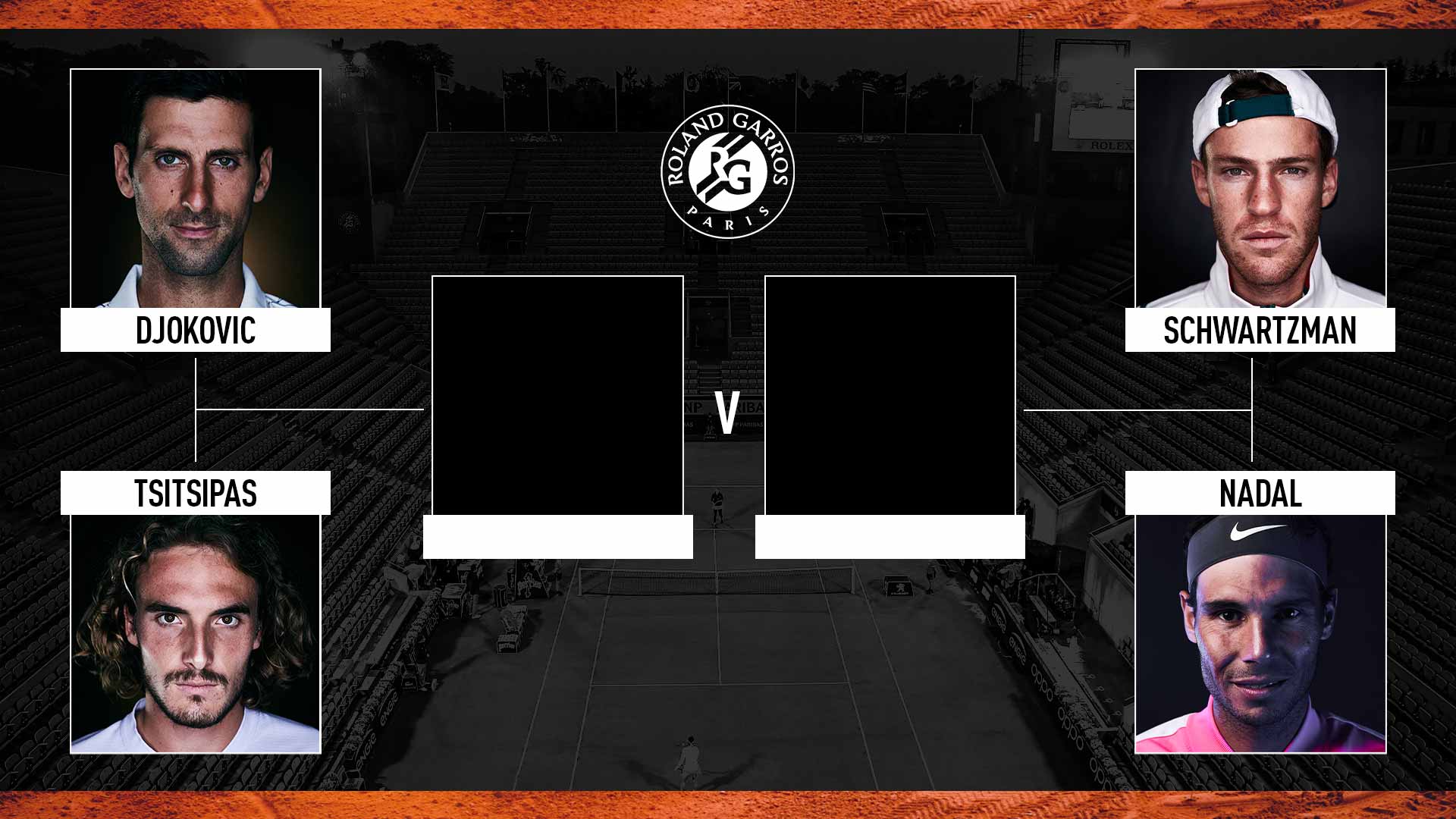 So if Nadal has slowly sucked the life out of that esteemed group like a python strangling its prey, what chance does Diego Schwartzman have of avoiding the Nadal graveyard? The 28-year-old Buenos Aires native has a few things going for him. Start with the fact that he's 20-9 this year, including 15-3 on clay, where he's produced some of the best tennis of his career.
Schwartzman will also be facing Nadal on another cool, damp day and Rafa has been quite candid in admitting that he dislikes the cold, heavy conditions. "The problem is the weather," Nadal said after completing his quarter-final win at 1:25 a.m. on Wednesday morning. "It's too cold to play tennis. It's very, very cold, no? I think [it] is [a] little bit dangerous for the body, playing with these very heavy conditions."
In hot, dry conditions, Nadal's ball jumps up higher, particularly on clay, which would be especially hard for a shorter player like Schwartzman. So it's easy to see why Rafa's not thrilled with the dreary weather.
The pair has squared off just once at Roland Garros, in the 2018 quarter-finals — and it was a grueling three-hour, 42 minute, four-set win for Nadal that was anything but routine. Schwartzman approached the net a surprising 71 times against Thiem, winning 62% of those points, and he frequently made effective use of the drop shot — clearly the en vogue shot of the tournament — so expect more of the same against Nadal, who could become the third-oldest finalist in tournament history with a victory.
Harold Solomon, a standout player from the 70s and 80s who stood just 5'6", believes that Schwartzman's size isn't necessarily a disadvantage for him in the matchup.
"If a big player with a huge serve is serving well, it makes it difficult for the smaller player. But the smaller player can make up for it," said Solomon, who made it to the final of Roland Garros in 1976. "Diego is gifted in a lot of different ways. He's exceptionally fast and he has exceptionally great anticipation. As I watch him play, he gets in and out of the corners so well. Maybe surprisingly to bigger guys, he's not looking to hang 10 feet behind the baseline, but he's looking to move up into the court to put pressure."
Both men have had two days off, but Nadal should be fresher considering the fact that he skipped the US Open and has spent just over 10 hours on court compared to more than 13 hours — 16 if you include his two doubles matches — for Schwartzman. Nadal has sailed through the draw without dropping a set, while Schwartzman may be wearier but also more battle tested, having survived the five-hour, eight-minute duel against Thiem.
Schwartzman's the underdog, but he clearly has a chance to make it out of the jungle alive, so make sure to clear your calendar for the day because it promises to be a riveting war of attrition, rather than a quick and dirty beating for either man.
More stories like this in: