Preview: Thiem, Nadal Ready For Another Heavyweight Showdown
Thiem won last ATP Head2Head meeting at Australian Open in January
Six years ago, Dominic Thiem took just seven games off of Rafael Nadal in their first ATP Head2Head meeting over three unpleasant—at least for him—sets in a second-round match at Roland Garros.
This was well before he bleached his hair blonde or frosted his tips, before his mom, Karin, started collecting symbolic tattoos for all of his tournament wins, before his friend Roger Federer poked fun at his Schwarzenegger-esque accents (German and English), before he won the US Open. Despite the one-sided nature of that 2014 affair, Nadal sensed that the young Austrian, then 20, would be a man to be reckoned with in the years to come.

"The new generation have to come, we're not going to be here for 10 more years," Nadal said in 2014 after that first match. "Dominic will be there in a short period of time and he will have his chances to become a top star."
Six years later, Nadal's prediction that the Big 3 wouldn't be around for 10 more years is debatable, but he was right on the money about Thiem, who is now ranked one spot behind the Mallorcan brawler at No. 3 in the FedEx ATP Rankings.
James Brown may have been the hardest working man in show business, but the combatants in Tuesday's first singles match at The O2 may be the hardest working men on the ATP Tour. Both are legendary for their gruelling training regimens. Thiem has said that media reports insisting that he used to train with tree trunks on his back, went on long night jogs in the woods, and swam in freezing cold rivers are exaggerated.
Maybe so, but he played in 31 events in 2015 and 28 in 2016 including Davis Cup and has remained committed to ATP 250 (Kitzbühel) and ATP 500 (Vienna) events in his home country. A writer from The New York Times dubbed him "The Boy Who Tried Too Hard", and Nadal paid tribute to Thiem's work ethic after his win Sunday.
"He's a hard worker," Nadal said of the Austrian. "Great guy, so I'm super happy for him to watch him win his first Grand Slam and he deserves it. He's one of the guys on the Tour that really deserves the success because he's a very hard worker."
Both men won their first matches — Nadal in a rout over Rublev, Thiem in a tough three-setter over Tsitsipas — and so a second win for either will put them in the driver's seat to make the event's semi-finals. The rivals have squared off 14 times before, with Nadal holding a 9-5 edge. But they've never faced each other indoors and Thiem won their last battle, an Australian Open four-set, four-hour, 10-minute blood feud that featured three tie-breaks, all won by the Austrian. After the loss, Nadal was asked why he thought he lost all three tie-breaks.
"I don't have a clear explanation, maybe because he played better than me," Nadal said. "Normally that's the reason why you win or lose tie-breaks."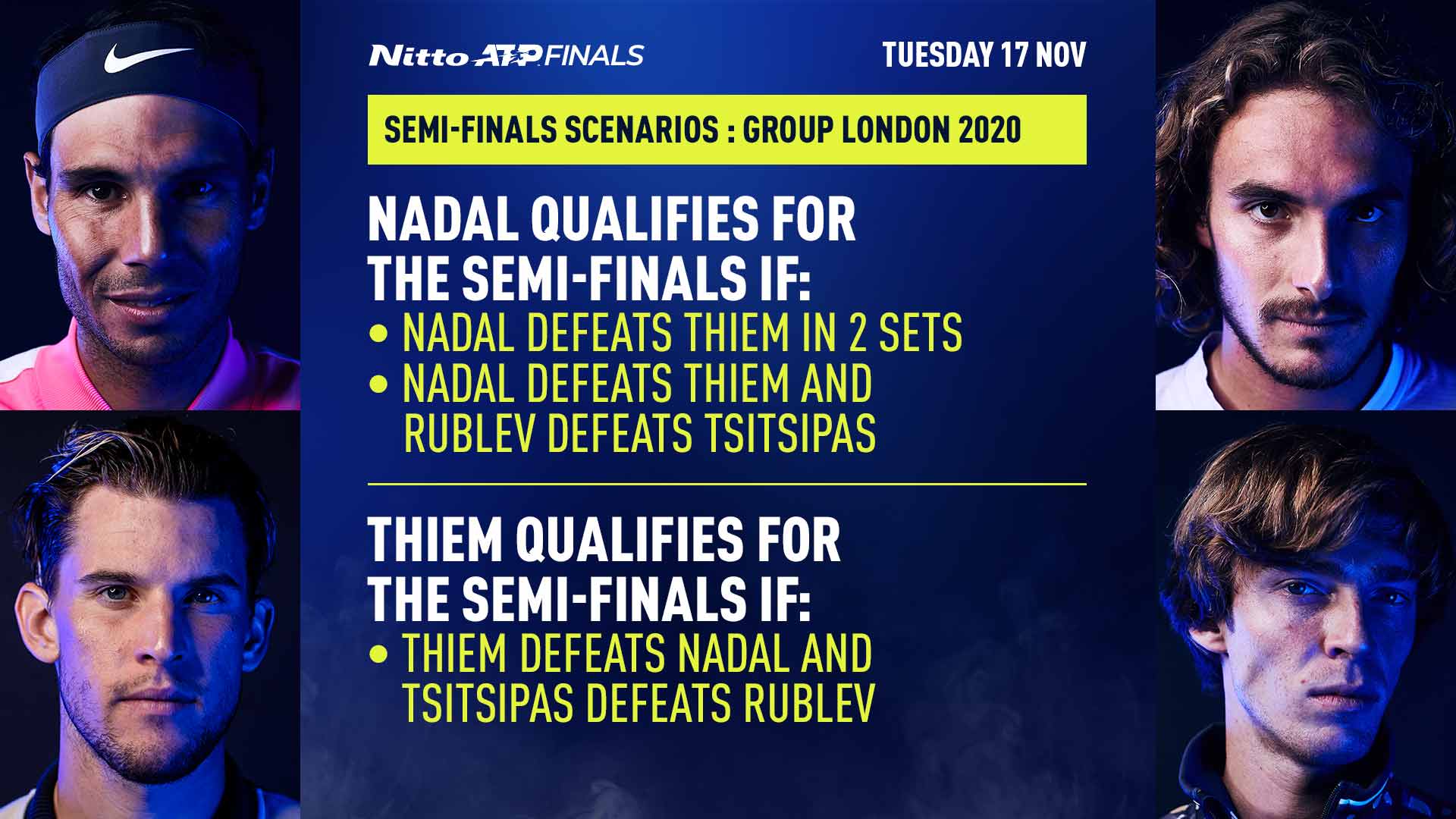 Nadal and Thiem have played just one other time on a hard court — in the 2018 US Open quarter-finals —and that match, won by Nadal, featured thrilling tie-breaks in the fourth and fifth sets as well. Don't be surprised if Tuesday's winner is determined by more tie-breaks.
Thiem comes into the match with a 23-7 record on the season and he's now 7-8 lifetime in five appearances at this event. He has more wins (17) at majors this year than anyone else in the field. With his win on Sunday against Rublev, Nadal upped his season record to 26-5, and his career mark at the Nitto ATP Finals to 19-14.
Nadal, 34, and Novak Djokovic, 33, are both bidding to become the oldest men to win the event. Roger Federer currently holds the record, having won at age 30 in 2011. Nadal has won 70 per cent of his indoor matches in his career; Thiem 59 per cent.
Despite Thiem's quality year and his win over Nadal in Australia, he said this week that he doesn't consider himself one of the favourites to win the tournament.
"I think especially this year all eight players are in great form and are pretty much on a hot streak as well," Thiem said. "Rafa and Novak because of all they have achieved and what they are, I think they're a little bit above the other six."
Nadal said he was pleased with how well he served in his first match but warned that his next two opponents — Thiem and Tsitsipas — were two of the Tour's toughest outs. "[Thiem] is a great player," Nadal said on Sunday. "He's improving every year. For me, [it's] going to be a tough one. Hopefully for him, too."
More stories like this in: