Nadal Beats Tsitsipas To Reach Rome Final
Spaniard will play in his 50th ATP Masters 1000 final
In the end, it was just a matter of time.
World No. 2 Rafael Nadal reached his first clay-court final of 2019 on Saturday, defeating #NextGenATP Greek Stefanos Tsitsipas 6-3, 6-4 to move into the championship match of the Internazionali BNL d'Italia, which will be his 50th ATP Masters 1000 final.
"[It] is [an] important victory for me because I played a solid match against a good player and a player who is winning lot of matches on this surface," Nadal said. "So winning in straight sets against him is a very positive result. More than this is a feeling that I am playing better every week, every day. That's important for me."
Last week at the Mutua Madrid Open, Tsitsipas became the youngest player to defeat Nadal on clay, earning his first victory against the Spaniard in four FedEx ATP Head2Head meetings. But this time Nadal was in control from the first ball against the reigning Next Gen ATP Finals champion, advancing after one hour and 43 minutes to move to 4-1 in their rivalry.
"I played a little bit better than him," Nadal said. "What I had to do is play well. Last week I didn't play very well in Madrid. Today I did better."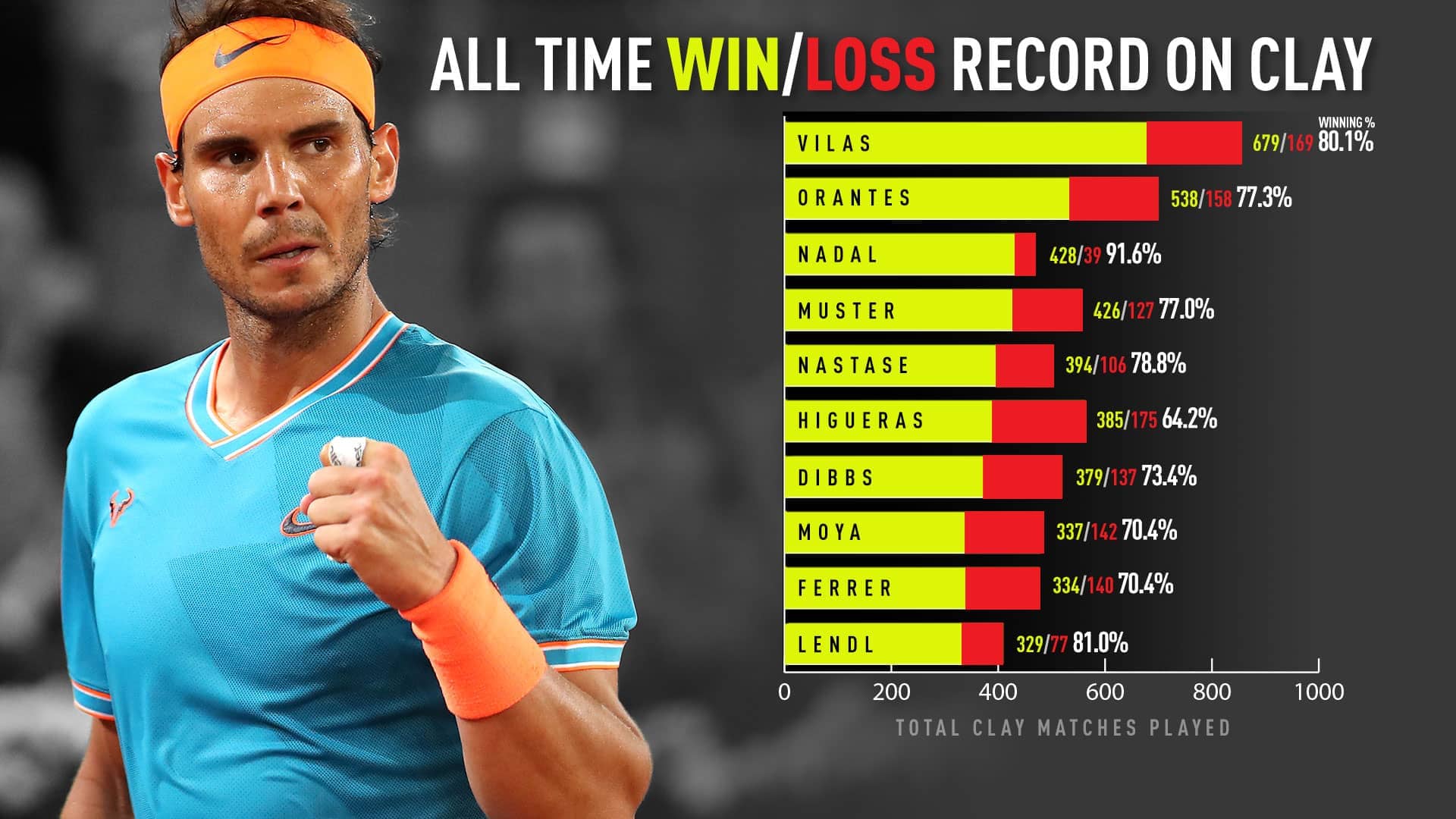 The 32-year-old is into his first championship match since the Australian Open, and with a 21-5 record on the season, he is seeking his first trophy of 2019. If he emerges victorious against World No. 1 Novak Djokovic, who defeated Argentine Diego Schwartzman, on Sunday, Nadal will stand alone with 34 Masters 1000 crowns.
Nadal relentlessly attacked the Greek's backhand early, stepping into the court to go after every short ball without hesitation. Although Tsitsipas did well in Madrid to play offensively himself, Nadal kept him pinned behind the baseline, scrambling on defence.
"Today when I was hitting the forehand, he was not able to hit his forehand. Last week when I was hitting the forehand, he still had the chance to go for the shots with his forehand. [That is] something that could not happen today if I wanted to have success," Nadal said. "When I achieve that goal, I start to open the court with the backhand against his forehand, too. I was able to change down the line with the forehand. My return was a little bit more inside than last week."
The second seed wasted no time revealing his intentions in this match, breaking Tsitsipas in the 20-year-old's first service game with an open-stance forehand passing shot down the line. Nadal saved the only two break points he faced in the match in the next game, lashing another forehand winner to stave off one chance before Tsitsipas missed a backhand return wide. Tsitsipas achieved greater depth with his shots to gain a 0/30 advantage as Nadal served for the first set, but Nadal won four consecutive points to seal the opener after 49 minutes.
Nadal broke for a 2-1 lead in the second set and he did not relent, clinching his victory when Tsitsipas missed a forehand long.
Nadal has dominated on serve this week, holding 31 of his 32 service games (97%), while he has also claimed 17 of his 29 (59%) return games. In his first three matches in Rome, Nadal won a 6-0 set in each of them, the first time he has earned a 'bagel' set in three consecutive matches.
Tsitsipas was trying to become the second player to beat Nadal in back-to-back clay-court tournaments, joining World No. 1 Djokovic (2011 Madrid & Rome). But instead, the Greek will leave Rome with an ATP Tour-leading 29 wins this year.
"I felt very close, despite the two-set loss," Tsitsipas said. "I'm just trying to realise what I did wrong because it was just one break in each set, if I'm not wrong. If that wouldn't happen, you never know."
Did You Know?
This was Nadal's record 71st Masters 1000 semi-final. The Spaniard is 11-0 in Rome semi-finals, and he is 8-2 in championship matches in the Italian capital.
More stories like this in: