Players Of The Decade: Novak Djokovic
ATPTour.com looks back on the Serbian's dominating decade
To kick off our Decade In Review series, ATPTour.com highlights the best players of the decade. Today we feature Novak Djokovic.
If the 2000s was the decade when Roger Federer and Rafael Nadal emerged as players with the potential to finish among the greatest of all-time, the '10s might be remembered as the period of time in which Novak Djokovic flexed his muscles and made room for three at the top of the sport.
Djokovic broke through in 2007, winning his first two ATP Masters 1000 titles and reaching No. 3 in the ATP Rankings. The following year, he won his first Grand Slam title (Australian Open).
But in the two years that followed, Djokovic resembled someone who was coming up short in big matches. From 2008-09, he went 3-5 in Masters 1000 finals, and he reached only one major title match. In the ATP Rankings, he was stuck at No. 3.
The Serbian, like the rest of the field, had not yet learned how to consistently topple the best in the sport, particularly Federer or Nadal. But as the new decade began, Djokovic learned quicker than anyone and started one of the best decades in the history of tennis.
By February 2011, after winning his second Australian Open, Djokovic had nudged his way into the Top 2. The milestone was worth celebrating, but Djokovic's climb was more about who he had beaten along the way.
Before 2010, he was 5-9 against Federer and 7-14 against Nadal in their respective FedEx ATP Head2Head series. But at the 2011 Australian Open, Djokovic dropped only one set all tournament and beat Federer in straight sets in the semi-finals.
His domination against the best became a 2011 trend as he turned in one of the best seasons in recent memory. Djokovic started the year 41-0, winning Masters 1000 titles in Indian Wells and Miami for his first March Masters sweep, and in Madrid and Rome. His first loss of the season came in June against Federer in the Roland Garros semi-finals.
Djokovic would finish the year with 10 titles (three major championships), a 70-6 record and his first year-end No. 1 finish. Against Federer and Nadal, he went 10-1 (4-1 vs. Federer, 6-0 vs. Nadal).
Djokovic, with his world-class defence and supreme elasticity, had caught the Top 2. Armed with one of the greatest returns of all-time, the Serbian could neutralise any big server's best weapon, and engaged in baseline rallies, he liked his chances every time.
At least one Slam and three Masters 1000 titles per season became the norm for the Belgrade native, whose steely determination and all-world mental fortitude were unmatched.
But in 2015, Djokovic, who had finished year-end No. 1 in three of the past four years, raised his game another notch and, by some measures, started outdoing Federer and Nadal.
Djokovic won six Masters 1000s, and he also captured three Slams to bring his overall major tally to 10. He became only the third man to play in all four major finals in a single year in the Open Era (Laver, 1969; Federer, 2006, '07, '09).
In 2015, Djokovic won 11 titles and 82 matches, both of which remain career bests, and to finish his most prolific season, Djokovic became the first player to win four consecutive Nitto ATP Finals titles.
"This season definitely stands out. I can't say I expected it, not at all. But I always gave my best, and I'm always asking from myself the most," said Djokovic, who reached 15 finals from 16 tournaments played. "I'm convinced with this dedication to the sport, I can achieve more. How much, I don't know."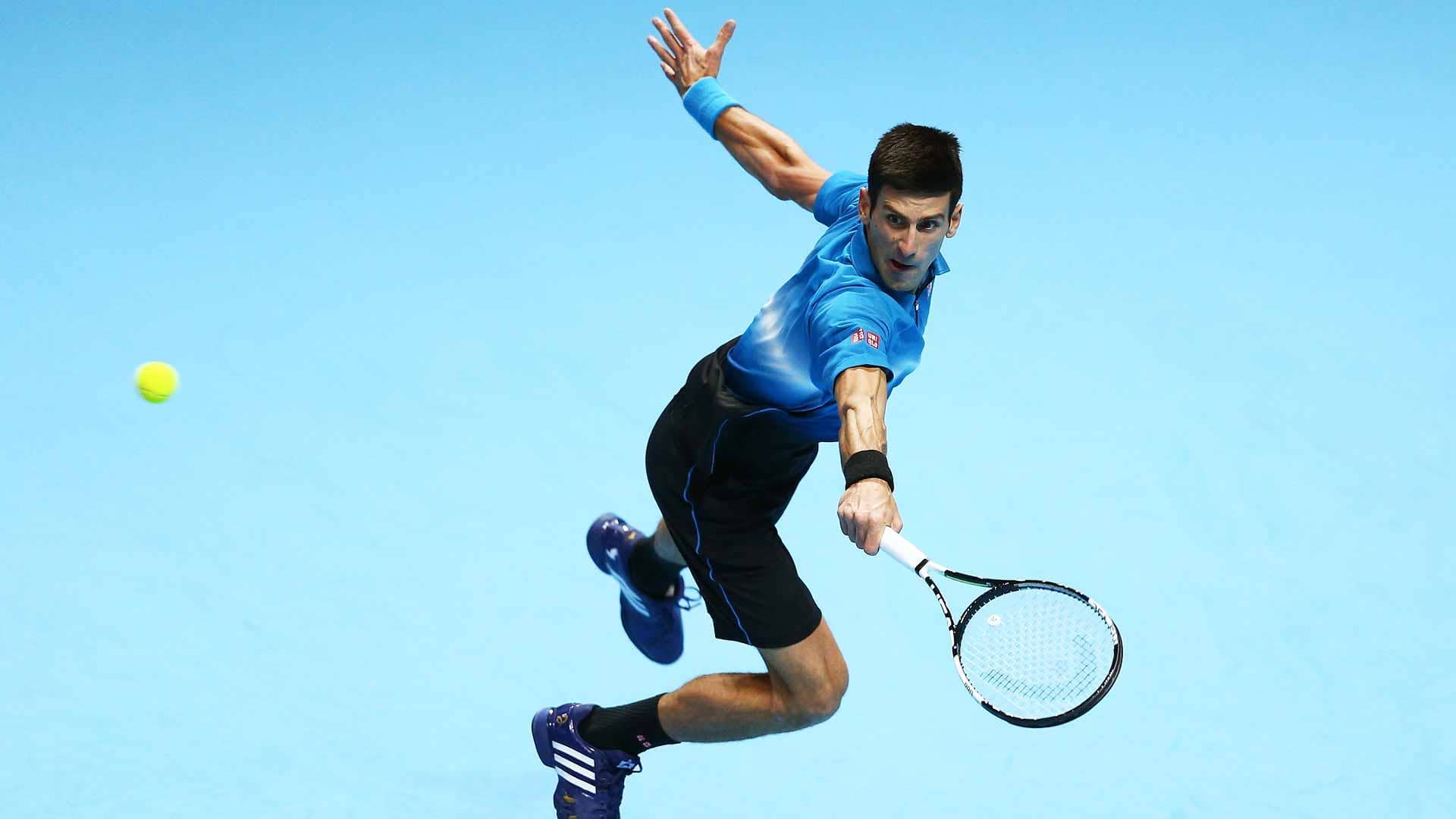 He'd achieve much more the very next season. Djokovic beat Murray for the elusive Roland Garros title, becoming only the eighth man to win all four Grand Slams during his career and just the third man to hold all four major titles at one time (Budge, 1938; Laver, 1962, 1969).
"One of the most beautiful [moments] I have had in my career," Djokovic said.
By midway through 2016, he was not only maintaining his top form; he was improving and setting new records while playing in the same era as Federer and Nadal, a feat that seemed unlikely when the new decade began. On defence or offence, there was no one better than Djokovic, who was seemingly never out of any point.
But from there, by Djokovic standards, he entered a funk. Early exits at 2016 Wimbledon and 2017 Australian Open, a tournament he had already won six times, signaled that something wasn't right. A lack of fire after winning the career Grand Slam? A lingering injury?
The latter was discovered to be true as Djokovic ended his 2017 season five months early and eventually underwent his first surgery (right elbow). His comeback took time, and in June 2018, two years after winning the career Grand Slam, he fell to No. 22.
What followed, though, was one of the greatest comebacks in history. Djokovic won his fourth Wimbledon title (d. Anderson) and the next month, became the first player to win the Career Golden Masters at the Western & Southern Open in Cincinnati (d. Federer). Djokovic won each Masters 1000 event at least once this decade as well.
He finished 2018 as year-end No. 1 for the fifth time, and his climb from No. 22 to No. 1 marked the lowest anyone had fallen before finishing the season on top.
In 2019, Djokovic added two more Slams (16 overall; 15 this decade) and two more Masters 1000s (34 overall; 29 this decade). His Wimbledon final against Federer, in which Djokovic saved two consecutive match points in the fifth set on Federer's serve, will go down as one of the greatest matches of all-time.
Ten years after Djokovic was the man trying to tear down the wall around the Top 2 of Federer and Nadal, the Serbian spent much of the decade standing at the top of the mountain. The Serbian was ranked No. 1 for 275 weeks, only 35 off Federer's all-time mark (310).
Djokovic also leads both FedEx ATP Head2Head series. The GOAT debate, however, is far from finished. All three are tied with five year-end No. 1 finishes, and Djokovic trails them both in Slam titles and is second to Nadal in Masters 1000s.
Will the Serbian finish as the greatest of all-time? We may be deep into this new decade before the answer is any clearer.
More stories like this in: