Berrettini, Zverev Ready To Battle For Nitto ATP Finals Qualification
US Open run helps to strengthen Nadal's year-end No. 1 chances
Matteo Berrettini has moved into contention for a spot at the Nitto ATP Finals, to be held at The O2 in London from 10-17 November, after a sensational run to the US Open semi-finals.
The Italian has vaulted from 17th position to ninth (2,160) in the 2019 ATP Race To London, only 20 points behind Kei Nishikori (2,180). The 23-year-old Berrettini has enjoyed a breakthrough year with two ATP Tour titles at the MercedesCup in Stuttgart (d. Auger-Aliassime) and the Hungarian Open in Budapest (d. Krajinovic).
Alexander Zverev will be working hard for a chance to defend his Nitto ATP Finals title, following a run to the US Open fourth round, but he still has work to do if he wishes to compete at the season finale.
The German star produced his best performance at Flushing Meadows in five appearances, losing out to Diego Schwartzman, and added 180 points to sit in 10th position. This season, the 22-year-old has won one ATP Tour title at the Banque Eric Sturdza Geneva Open (d. Jarry), finished runner-up at the Abierto Mexicano Telcel presentado por HSBC (l. to Kyrgios) and reached the Roland Garros quarter-finals for the second consecutive year.
Incredibly, there are four players — Berrettini (2,160 points), Zverev (2,120), David Goffin (2,080) and Gael Monfils (2,080) — are all within 100 points of eighth-placed Nishikori (2,180), who is just 170 points behind Roberto Bautista Agut in seventh position (2,350).
Additionally, first-round exits at Flushing Meadows for Stefanos Tsitsipas (sixth place) and Bautista Agut (seventh place), who are both bidding to qualify for the The O2 in London for the first time, have ensured that the final two months of the regular ATP Tour season will be fascinating.
View Latest ATP Race To London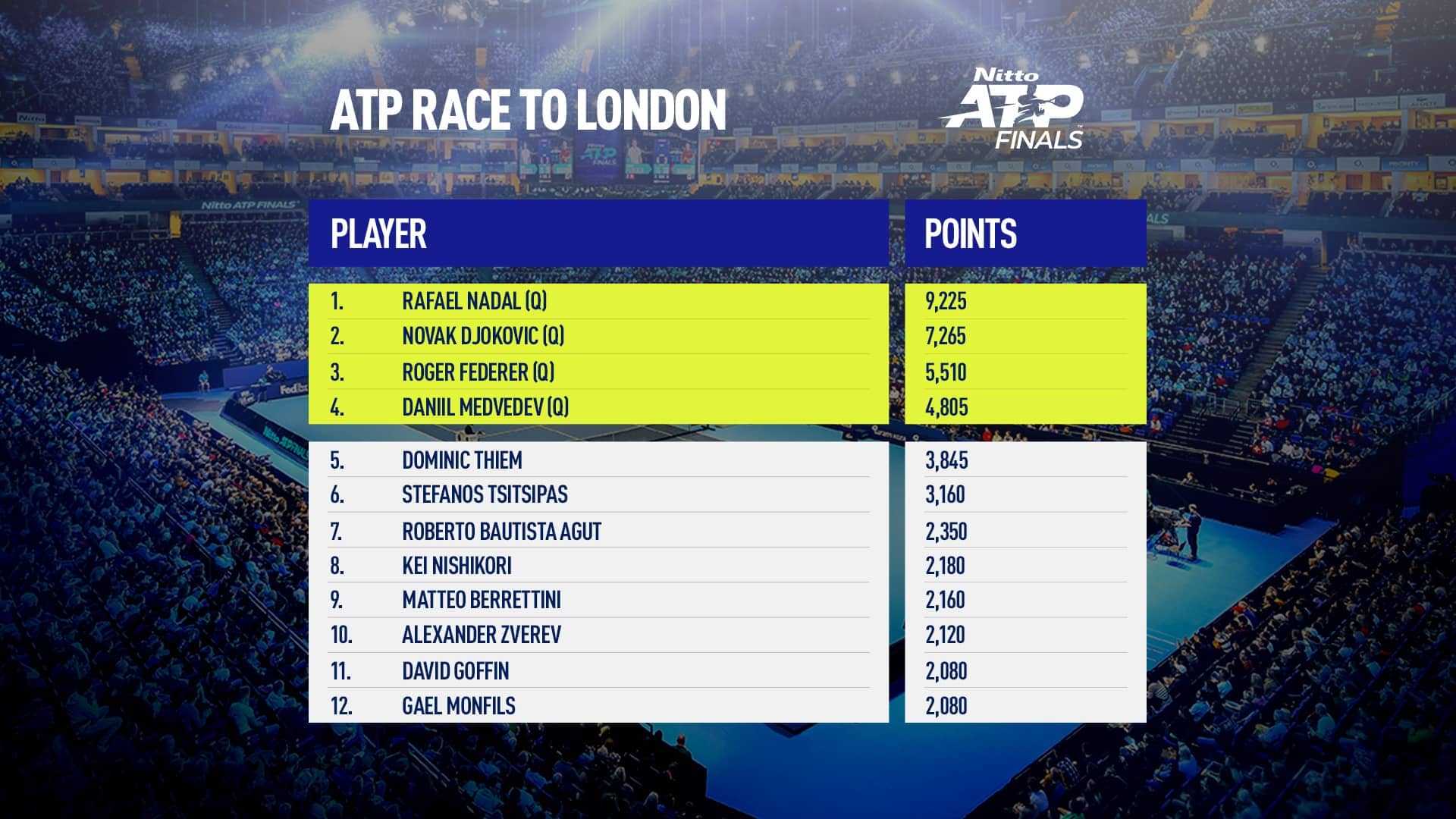 US Open finalist Daniil Medvedev, who qualified for the Nitto ATP Finals for the first time on 4 September, ended the summer North American hard-court swing with a 20-3 match record, to move up one spot to fourth position (4,805). The Russian is now almost 1,000 points clear of fifth-placed Dominic Thiem (3,845), who lost in the first round in New York City and continues to fight for a place in London for the fourth consecutive year.
The battle for year-end No. 1 has also intensified after Rafael Nadal captured his fourth US Open crown, which marked the 19th major singles championship of his career. Nadal led Djokovic (7,265) by 140 points coming into the tournament, but the Spaniard has since pushed the gap to 1,960 points. Nadal, who will next compete at the Laver Cup and then the Rolex Shanghai Masters, finished year-end No. 1 in 2008, 2010, 2013 and 2017.
More stories like this in: