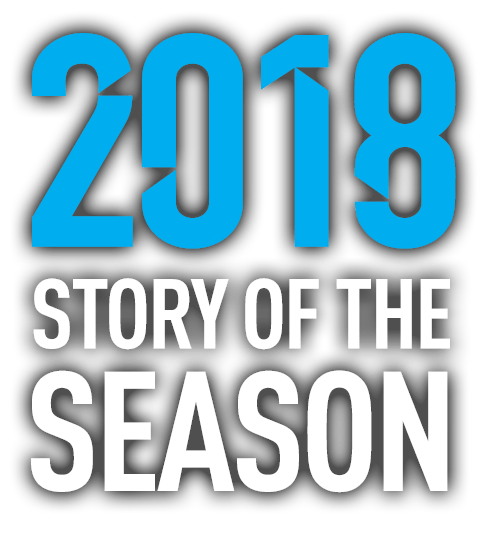 After beginning his 2018 campaign with a 6-6 match record, Novak Djokovic turns his season around to claim the year-end No. 1 ATP Ranking. This is his story...
Djokovic returns to competition serving tentatively at the Australian Open, where he falls in the fourth round to Hyeon Chung. It is his first tournament since Wimbledon 2017. More...
'Small Medical Intervention'
Shortly after the Australian Open, Djokovic undergoes right elbow surgery, which he euphemistically calls a 'small medical intervention'. The short-term pain proves to be worth the long-term gain. More...
The Serb is left searching for answers after consecutive opening-round losses to Taro Daniel in Indian Wells and Benoit Paire in Miami.
More...
After splitting with Andre Agassi and Radek Stepanek, Djokovic reunites with former coach Marian Vajda at the Rolex Monte-Carlo Masters. Good times are soon to come.
More...
After beginning the season with a 6-6 match record and falling to No. 22 in the ATP Rankings, Djokovic begins to turn his season around by reaching the semis in Rome and the quarters at Roland Garros.
More...
En route to the Queen's final, he becomes the 10th man in the Open Era to notch 800 match wins.
More...
Novak becomes the first singles player to win all nine ATP World Tour Masters 1000 titles by finally triumphing in Cincinnati, where he had previously lost five times in the title match.
More...
Great rivals Djokovic and Roger Federer both qualify for the Nitto ATP Finals during the US Open.
More...
Djokovic wins a second consecutive Grand Slam title at the US Open to join Pete Sampras with 14 majors in third place on the all-time list of most Grand Slam titles won.
More...
In Shanghai, Djokovic becomes only the 12th man to play 1,000 tour-level singles matches in the Open Era. Djokovic boasts a better record (827-173) at the milestone than did Nadal (822-178) and Federer (814-186).
Two years after he last sat atop the ATP Rankings, Novak returns to World No. 1 after Paris, having rallied from a low of No. 22 in June. He becomes the first player to be ranked outside the Top 20 and finish the same season at No. 1. More...