INSIGHTS: Shot Quality Explained
Shot Quality measures the quality of the player's shot on a 0-10 scale
Shot Quality measures the quality of the player's serve, return, forehand and backhand on a 0-10 scale. They are calculated in real-time by analysing each shot's speed, spin, depth, width, and the impact it has on the opponent.
Figure 1 is a Shot Quality Player Card featuring Tsitsipas and Schwartzman. All cards show a player's average Shot Quality based on the past 52 weeks. A yellow bar indicates which player has an edge in that specific Shot Quality measure.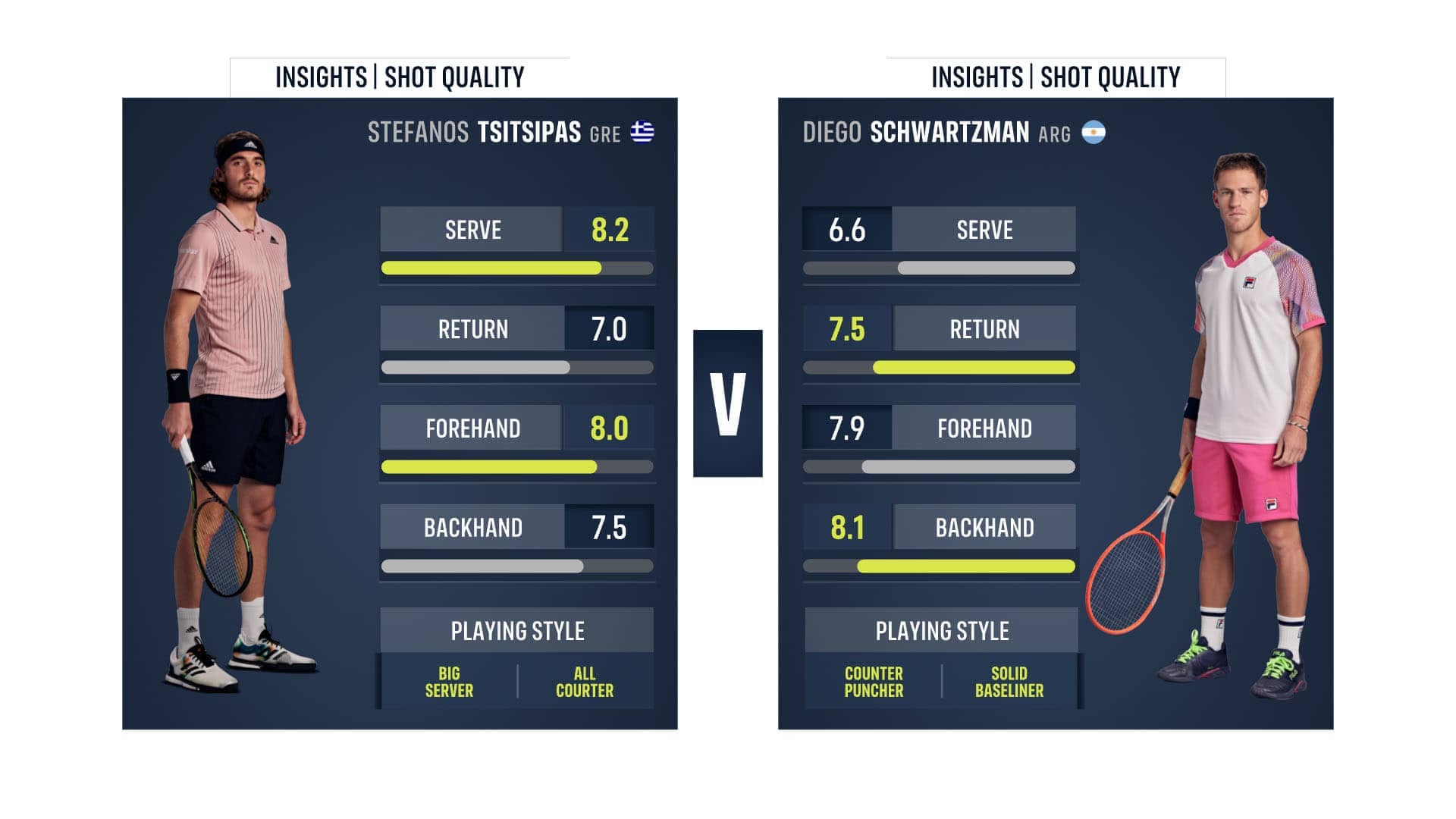 Figure 1 Tsitsipas vs Schwartzman Shot Quality Player Card. This card is based on hard court matches and updated as of the 1 August 2022. The data set is Masters 1000s, and select 250s and 500s.
Artificial Intelligence recognises that each shot in tennis requires a different combination of speed, spin, depth, and width. For example, the quality of a drop shot will be measured very differently compared to a backhand cross-court.
There are different ways to create high-quality shots. One player might have an effective forehand by using heavy spin and steep bounce angles, while another player hits a flatter, skiddier ball.
It is worth noting that while Shot Quality is a measure of the ball characteristics and impact on the opponent, it does not measure a player's movement, decision-making, or other important factors which contribute to being a top player.
Figure 2 shows that higher quality shots increase the player's probability of winning the point.

Figure 2 The relationship between points won and Shot Quality
For example, if a player hits a shot with a quality score of 2, they have a 22% chance of winning the point. They have a 77% chance of winning the point if they hit a shot with a quality score of 9.
Figure 3 confirms what most tennis fans would expect. On average, higher-level tournaments result in higher Shot Quality scores.
Figure 3 The relationship between Shot Quality and the level of ATP tournament
Shot Quality will be used in the following ways:
1. Player Cards
show a player's average Shot Quality based on the last 52 weeks.
2. In-Play Shot Quality
provides a compelling narrative by comparing the player's performance with their opponent, the player's average, and the tour averages. The AI tracks this in real-time, so a player's Shot Quality can be shown during a match.
3. Shot Quality Leaderboards
show who has the best shots on the ATP Tour.