Challenger Q&A: Sinner, 17, Joins Elite Company With Lexington Title
Jannik Sinner sits down with broadcaster Mike Cation after claiming his second ATP Challenger Tour title in Lexington
The youth movement in Italy is well underway. Last month, we profiled 17-year-olds Giulio Zeppieri and Lorenzo Musetti. Today, it's Jannik Sinner's turn to step into the spotlight.
The 17-year-old is quietly climbing the ATP Race To Milan standings this year, rising to 12th with his latest breakthrough on Sunday. Sinner added a second Challenger title with a 6-4, 3-6, 6-4 win over Alex Bolt at the Kentucky Bank Tennis Championships. His triumph in Lexington marked his first since February, when he lifted his maiden trophy on home soil in Bergamo.
The teen is making his presence known in 2019 and etching his name in the history books in the process. He became the 11th player aged 17 & under to win multiple titles on the circuit. He is also the third do to so in the last five years, joining Taylor Fritz and Felix Auger-Aliassime.
Sinner is the youngest player in the Top 200 of the ATP Rankings, rising 59 spots to a career-high No. 135. With his 18th birthday less than two weeks away, he is already making a serious push to crack the Top 100.
Most Titles Aged 17 & Under
Sunday's final was a rematch of a classic encounter at Wimbledon qualifying last month, which saw Bolt advance 2-6, 7-5, 12-10 after a marathon third set. There was plenty of drama once again, as the Aussie denied a pair of match points at 5-3 in the third set, before Sinner found the finish line two games later.
The #NextGenATP star spoke with broadcaster Mike Cation following Sunday's final...
You've had two marathon matches against Alex. The first at Wimbledon had a different outcome. How did you change the result today?
For me, it was not easy to play him again. I thought I played very well at Wimbledon and I lost. I also played quite good here today and I won, so maybe I was mentally stronger this time. That's the reason I won today. At the end, I was serving 5-3 up and had two match points. It was not easy to get it done, but I think I did a very good job.
There aren't too many 17-year-olds with two Challenger titles. Rafa, Novak, Delpo. Some of the best in the world. What does it mean to get your second already before your 18th birthday?
I'm not thinking too much about these kinds of things. We are just trying improve my game every week. That's the first goal. Of course, if you win it's better. If you're winning two Challengers, that means you're playing very good tennis. I think I've done a great job with that.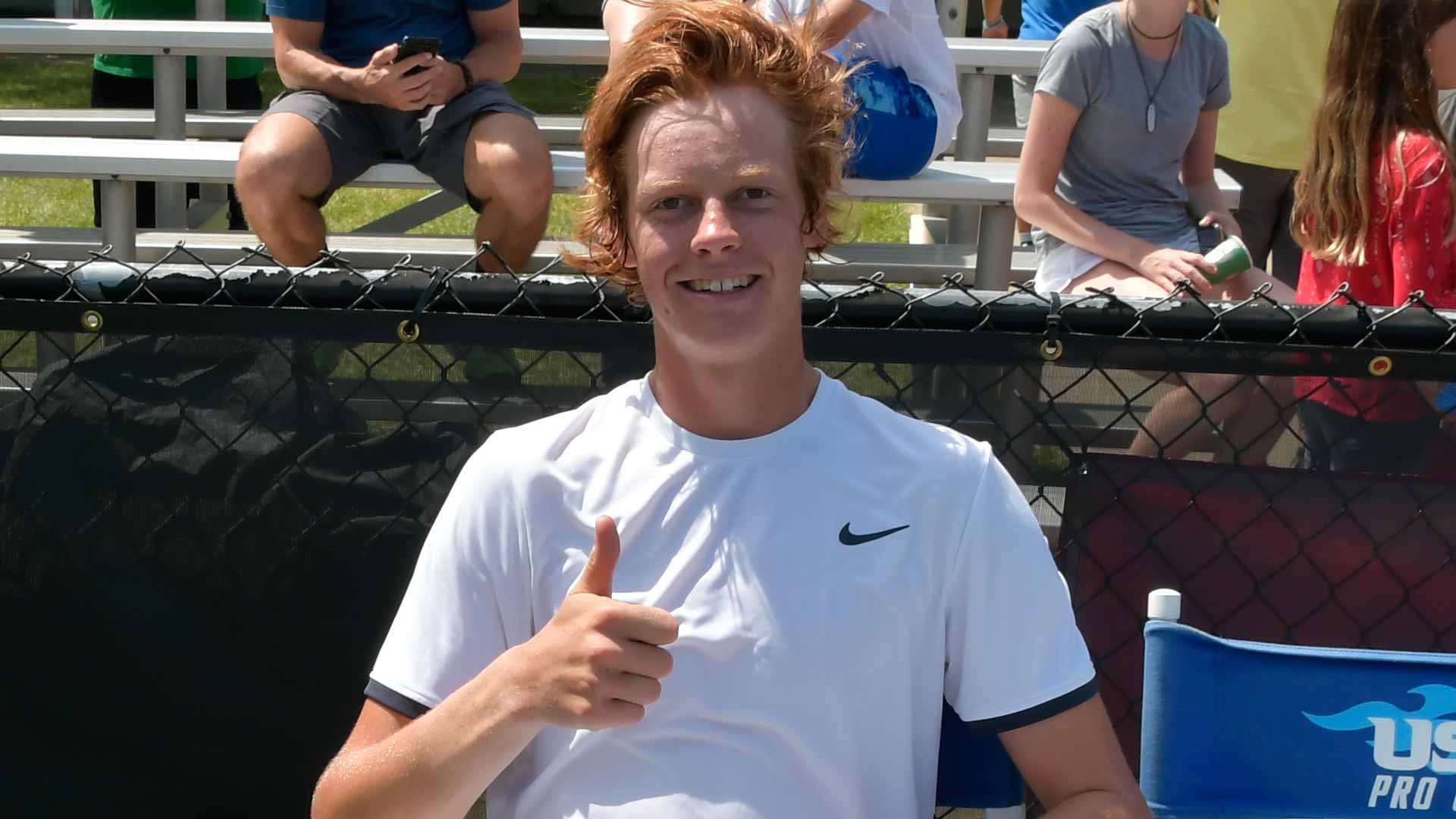 Photo: Charlie Baglan
This is great preparation for US Open qualifying. How are you going to make sure your body is ready and in the best shape for the Open?
I am going to play Aptos and then take one week off. Maybe I will go to Cincinnati, but just to practise. If not, we'll go directly to New York to rest for a few days before practising again.
Is your foot ok? You were limping a bit yesterday.
It is better and we've done a good recovery. The match against Duckhee Lee in the quarter-finals was very tough physically. But in the end, I'm feeling fine.
Your serve percentage was up and down all week long. At around 50 per cent for the tournament. Have you been working on that? It's something that you seem to be doing in practice the last two weeks.
Yes, we are focusing on the serve mostly. That's the point I have to improve more than anything. Of course, young players have to improve everything, including the forehand and backhand, but in my case it's the serve. I'm tall so I think I can serve better. There are matches that are better and some that are worse, but this is tennis.
You have to play again in two days. A first round against Maverick Banes in Aptos. Are you going to be able to celebrate at all while heading out to California?
Maybe tomorrow I'll take the day off. A nice dinner and some mini golf tonight [laughs]. I enjoy these kinds of things. I'll just try to switch off now and I hope I can play good in Aptos.
More stories like this in: