Van De Zandschulp: 'You Don't Have Time To Celebrate'
Dutchman reflects on quarter-final run at Flushing Meadows
Botic van de Zandschulp enjoyed by far the biggest result of his career at the US Open, where he became the third men's qualifier on record to reach the quarter-finals. But if you talk to the Dutchman, who on Wednesday qualified for the BNP Paribas Open, it's as if nothing happened last month.
The same day Botic lost against eventual champion Daniil Medvedev, he flew home. Van de Zandschulp has not looked back since.
"It went quickly and I didn't really have time to think about it," van de Zandschulp told ATPTour.com. "I didn't realise it yet and I think it is maybe going to come in the offseason when I'm not playing and taking a look back at the year. I think then I'm going to realise how good it was."
Botic, who celebrated his 26th birthday on Monday, has not stopped moving since his big run, both literally and figuratively. After staying home for less than a week, the new Top 100 player flew across the Atlantic Ocean again, taking a 14-hour trip to Uruguay to compete for his country in Davis Cup.
Van de Zandchulp then returned to The Netherlands for eight days before travelling to California — this is just his second trip to the United States, his first coming for the US Open — to play qualifying for the BNP Paribas Open.
"A lot of miles, definitely," van de Zandschulp said, cracking a smile. "It's been some ride the past couple of weeks."
His US Open run was big news in The Netherlands, as no Dutchman had made a major quarter-final since Sjeng Schalken at Wimbledon in 2004. Van de Zandschulp did several interviews and appeared on a Dutch TV show when he was home.
"My phone blew up. In Holland it was a pretty big thing," van de Zandchulp said. "If I was a guy from Russia at the moment and I made the quarters, it would be a little different than from Holland. The last guy from Holland was 18 years ago, Schalken. He made the quarters. For a country like Holland, it's a little bit more special."
World No. 66 van de Zandchulp has not reveled in his success. Instead, he refocussed and set his sights on a new goal: cracking the Top 50 in the FedEx ATP Rankings.
"You don't have a lot of time to celebrate," van de Zandschulp said. "You go on to the next tournament every time."
That does not mean that the Dutchman's efforts at Flushing Meadows were not beneficial. Botic proved to himself he could compete with the world's best by defeating then-World No. 11 Casper Ruud in the second round of the main draw and then-World No. 14 Diego Schwartzman in the fourth round.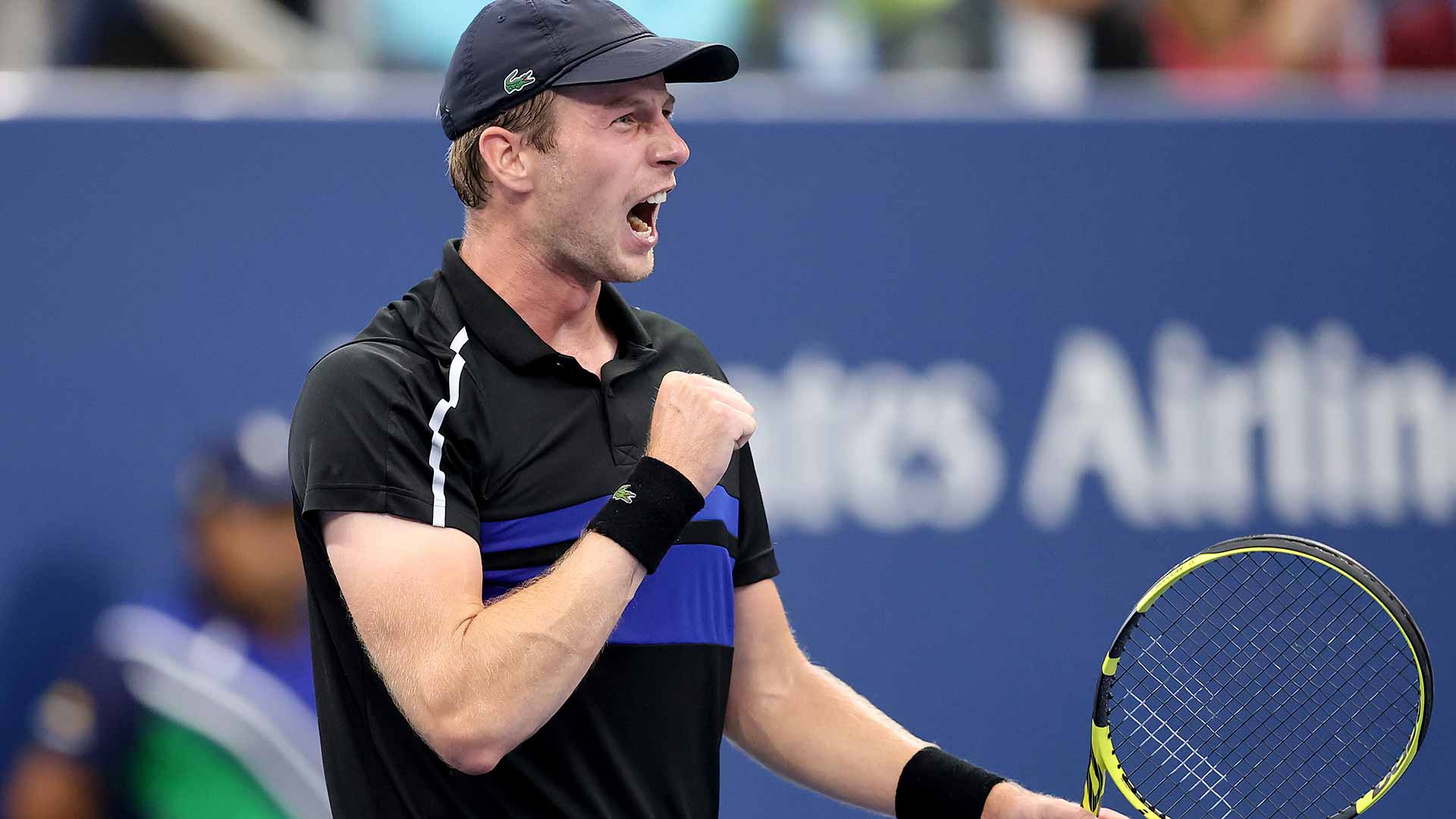 Photo Credit: Brad Penner/USTA
Nobody pushed eventual champion Medvedev as far as van de Zandschulp. The Russian, who stunned World No. 1 Novak Djokovic in the final, needed four tight sets to get through their quarter-final.
"I think it's a good sign I can beat guys who are higher-ranked than me and guys who are [around No.] 10 in the world. I think I did pretty good against Medvedev as well," van de Zandschulp said. "It gives you a little bit of confirmation that you are doing the right things, doing the right stuff off the court and on court during practices."
Van de Zandschulp had never previously been inside the World's Top 100, and he had never competed in qualifying at an ATP Masters 1000 event. At Indian Wells, he was the top seed in qualifying and battled through to the main draw, where he will play American Marcos Giron.
"I think it's something new to handle and I think that goes in stages. First I had it in the [ITF] Futures, going from unseeded to seeded, then in the [ATP] Challengers. It's always different how you go into a tournament," van de Zandschulp said. "Now it's starting over again a little bit. Playing in qualifying as the No. 1 seed, you have different expectations than normal. I hope it's going to be less pressure in the main draw."
The Dutchman admitted, "I put maybe a little bit too much pressure on myself" to qualify for the BNP Paribas Open. But as was the case in New York, where he lost the first set in his first six matches (three qualifying and three main draw), he was undeterred.
Whether facing pressure in a tennis match or flying over the Atlantic Ocean five times in a month-and-a-half, very little visibly bothers van de Zandschulp. The breakthrough player just worries about the practices and matches in front of him and giving his best every day.
"I'm not a guy who is too excited about stuff. I'm always like this," van de Zandschulp said. "I'm not changing now that I made the quarters at the US Open. I think that's a good thing."
More stories like this in: