Beyond The Antics, Nastase's Genius Made Him A Masters Great
Romania's Ilie Nastase was the first player to put his stamp on the season finale, winning four titles in five years in the '70s
Continuing our series on the 50 years of the Nitto ATP Finals, ATPTour.com looks at one of the most colourful and controversial figures in tennis history, Ilie Nastase.
A ticket to an Ilie Năstase match represented much more than just an opportunity to watch a tennis match. Năstase once told a chair umpire that tennis "isn't the opera". Perhaps not, but his matches were very much a raucous blend of performance art, theater, and stand-up comedy.
The talented and polarising Romanian was fined or suspended too many times to count for making obscene gestures, using profane language, firing balls at linespersons and generally making a nuisance of himself on the court. Sometimes his fines added up to more than his prize money at the end of the week.

In a memorable match with John McEnroe at the US Open in 1979, he played the part of his other nickname—the Bucharest Buffoon—when he nearly caused a riot with his antics and made McEnroe look like a choirboy by comparison. Năstase once turned up at a Wimbledon doubles match wearing a beefeater helmet. On another occasion, he ripped his tennis shorts during a match at the US Open, and promptly took out a new pair and changed right there on the court. As they say in Romanian, nicio problemă. No problem.
British tennis great Tim Henman recently asked "Nasty" how he feels about still being considered the sport's iconic bad boy. "I don't care!" he said on a Zoom call from his Bucharest home, where he sat before his collection of tennis mementos and a Romanian flag, with pop music playing in his office. "Somebody has to be nasty, no? Not everybody is nice. I'm the nasty one. I love it."
Nasty was known for clowning, stalling, and displaying flashes of genius on the court. He often drove his opponents to the brink of madness, and usually beat the short shorts off of them too, particularly at the season-ending Masters, where he made it to the final in five consecutive seasons in five countries (France, Spain, USA, Australia, and Sweden) on three surfaces.
Năstase was a playboy, a practical joker, a novelist, a coach, a diplomat, a politician, a provocateur, and, perhaps above all else, an entertainer. Amid all the legends, generations who missed watching his artful game may not realise that he was also a gifted tennis player, a guy no one wanted to see their name next to in the draw, particularly at the Masters, where he won four titles in four different cities in a five-year stretch in the early '70s.
Ask Năstase why he was so very good at the Masters, as British tennis great Tim Henman did, and he shrugs. "I don't know how I did it," he said. "It was my lucky tournament…it was my favorite tournament, but I don't know how I did it."
Ilie Theodoriu Năstase was born in Bucharest, Romania in 1946 just months before the Romanian Communist Party took power, winning an election marred by allegations of fraud. He lived for tennis from an early age and wrote in a memoir that his parents were "extremely supportive" but decided not to come to any of his matches or "take any interest" in his tennis career. "When I rung them to tell them I had won the French Open in 1973, my dad said, 'What's that?'" he wrote. "Deep down, I knew this was his way of showing he loved me."
Travel was strictly restricted during the communist era in Romania, so Nasty was unable to test his level of play at an international level until the mid-1960s. His tennis career took off in 1966, when at 19 he became the champion of Romania. That same year, he reached the French Open doubles final with his sidekick, Ion Țiriac.
He went on to win two singles majors—the French and US Opens— three doubles majors, and more than 100 titles (combining singles and doubles), 15 of them in 1973, when he was the first ATP World No. 1. Năstase also proudly represented his country in Davis Cup competition for 18 years, leading Romania to the final on three occasions. He was part of an elite club, together with Ken Rosewall, Rod Laver, Jimmy Connors and Arthur Ashe— who earned $1 million or more in the sport.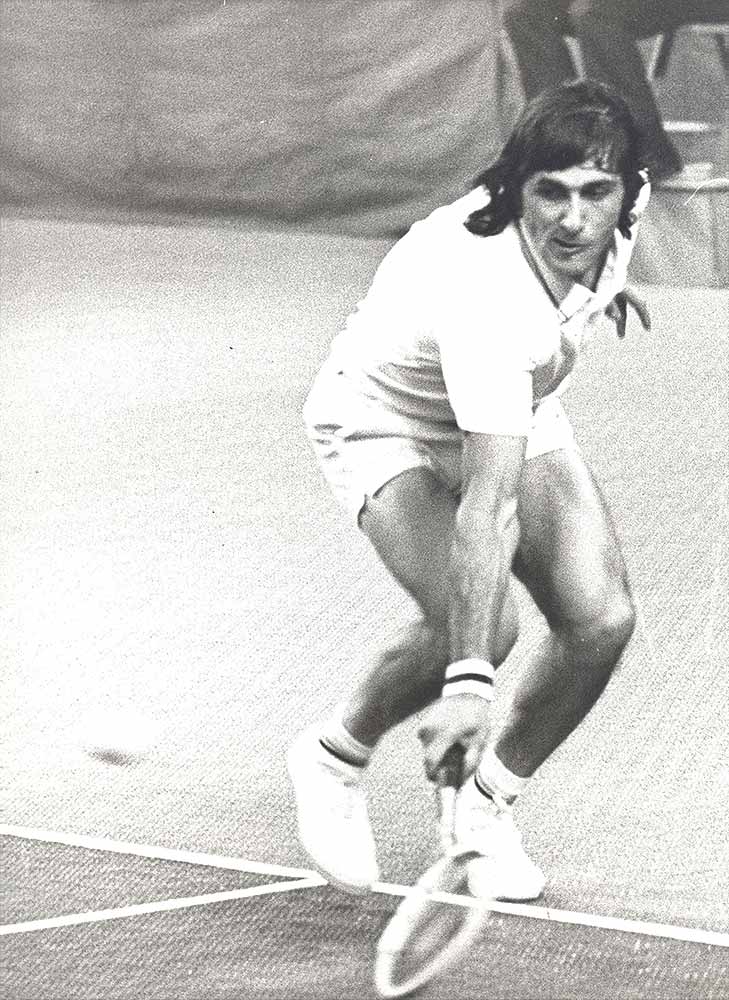 Ilie Nastase en route to his second Masters title in Barcelona 1972. Photo: FC Barcelona/Horacio Seguí
"People remember his crazy antics but not his talent", said Zeljko Franulovic, Tournament Director of the Rolex Monte-Carlo Masters, who lost a tough three set match to Năstase at the '71 Masters in Paris. "He was one of the most talented ever. We were used to (his antics), but now I don't think it would work because the rules have changed."
Năstase told Henman that his first Masters title in Paris at the Stade Pierre de Coubertin in 1971 remains his favourite. His $15,000 first prize came in handy for the post-match celebration.
"I lived in Paris for four years," said Năstase, who was the head of the Romanian tennis federation for eight years until 2008 and also served as the country's Davis and Fed Cup captain for spells. "It was my favorite city at the time. When I made the (prize) money, by the next day I had to take the bus because I spent it all at a nightclub in St. Germain."
Nasty backed up that title with back-to-back Masters wins in '72 (Barcelona) and '73 (Boston), notching wins against a host of tennis legends, including Stan Smith, Jimmy Connors, Manuel Orantes, and John Newcombe among others. But if you ask him about Boston, what he remembers is how a chair umpire didn't show up for one of his matches.
"They picked some guy out of the crowd to be umpire!" he said.
In 1974, the quest to win four Masters titles in a row took Nasty Down Under, to the grass courts of Melbourne's venerable Kooyong Club. He came into the event ranked No. 10 and grass wasn't his best surface, but he was undefeated in the round-robin stage and then upset Aussie star John Newcombe, then ranked No. 2 in the semi-finals.
"But then I lost to (Guillermo) Vilas in the final," Năstase said, chuckling at the memory of his five-set loss. "The grass was very slow, the balls were quite big… it was like playing on clay."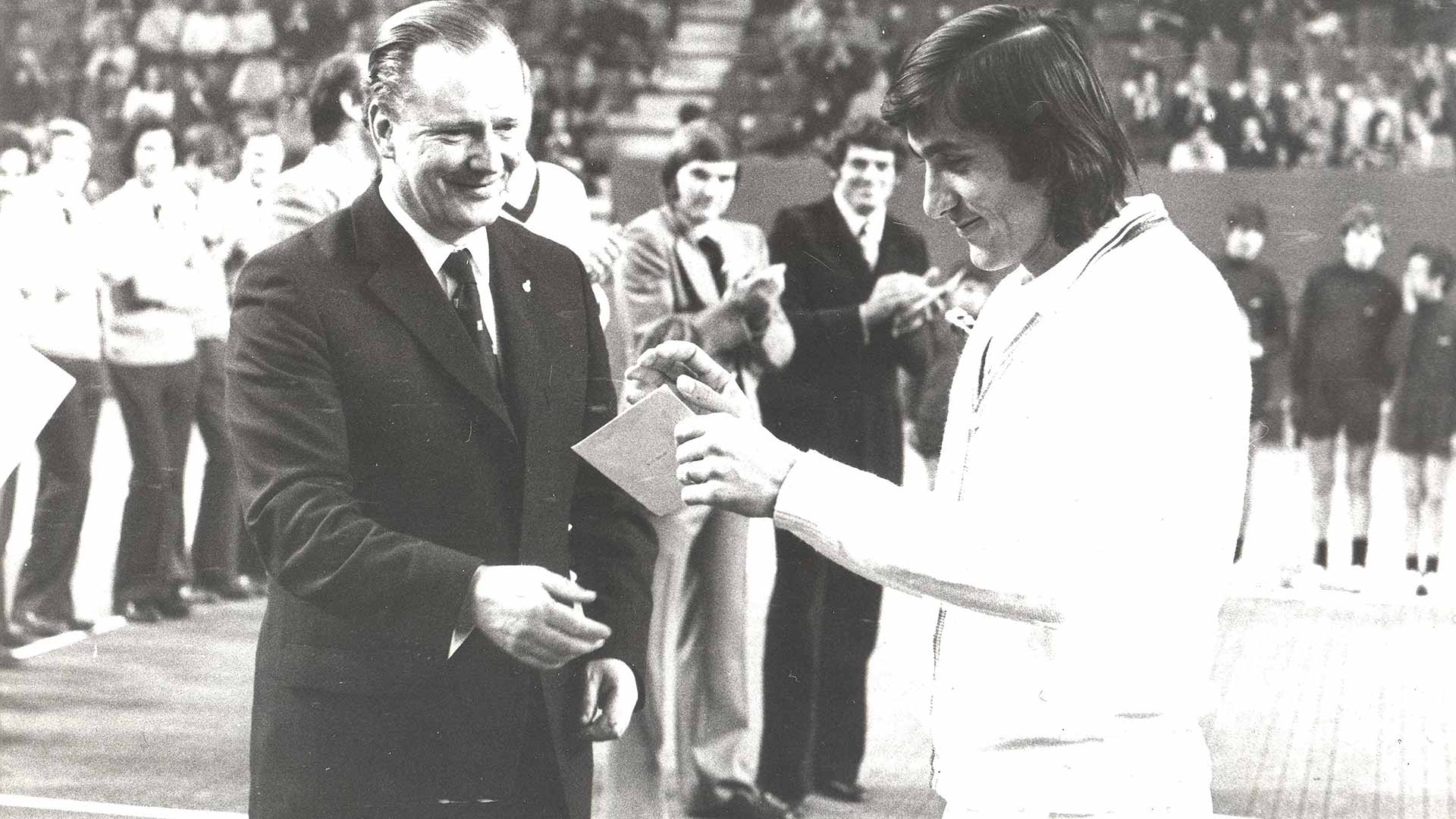 Ilie Nastase at the Barcelona presentation ceremony in 1972. Photo: FC Barcelona/Horacio Seguí
The following year, 1975, the tournament was played in Sweden, and a young Björn Borg, then just 19 but already ranked No. 2, was the hometown favorite. Năstase, then 29, schooled young Borg in the final, winning three sets in just 65 minutes. After the match, Nasty told reporters, "It was the most I concentrate in 29 years. From now on, I try not to kid. For as long as possible, anyway. I realise it's not good for my game."
The "kidding" he was referring to was a round-robin match earlier in the tournament where both he and his opponent, Arthur Ashe, were disqualified. Nasty quick served Ashe on at least one occasion, and was repeatedly warned for stalling. At one point, he faked as though he was about to serve four times, remarking to his opponent, "Are you ready, Mr. Ashe?" Ashe eventually walked off the court to protest Nasty's antics. The American was disqualified for leaving the court; moments later, Nasty was also disqualified. If Ashe had stayed on the court, he would have won the match. After the debacle, Năstase said, "I'm always wrong. Why do I have to say anything?"
"It was my fault," Năstase told Henman of the Ashe disqualification affair. "Jack Kramer was the president (of the ATP) at that time. I went to him the next day and apologised. I told them it was my mistake and they should give the match to Arthur. No other player would do that. You see, so I was not always so Nasty."
Nitto ATP Finals 50th Anniversary Content
More stories like this in: